United Kingdom
Dodgers Cave to Woke Mob, Invite Anti-Catholic Drag Queens 'Sisters of Perpetual Indulgence' to Pride Night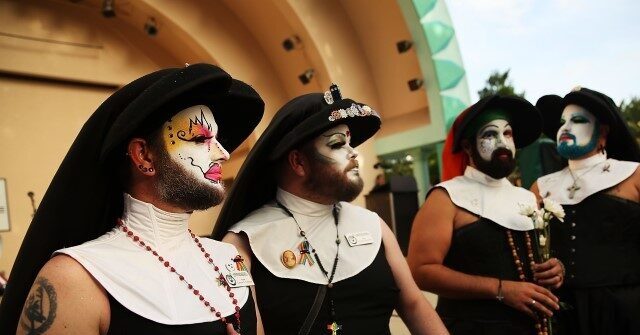 The Los Angeles Dodgers have reversed course and decided to invite the anti-Catholic drag queen group "Sisters of Perpetual Indulgence" to the team's LGBTQ Pride Night.
As Breitbart News reported last week, the Dodgers disinvited the drag queen group "Sisters of Perpetual Indulgence" after several Catholic groups decried the troupe for its anti-Catholic imagery and stance.
"The Sisters of Perpetual Indulgence 'use humor and irreverent wit to expose the forces of bigotry, complacency and guilt that chain the human spirit,' according to their website.  They were supposed to receive a Community Hero Award during the June 16 game," the report noted.
"The nonprofit was founded in 1979 when three men dressed in full, traditional nuns' habits — one of them carrying a machine gun —  walked the streets of San Francisco on Easter Sunday," it added.
At the time, Sen. Marco Rubio (R-FL) chastised the Dodgers for including a group that clearly offended Christians, arguing that it goes against the team's mission of being "inclusive and welcoming to everyone."
"Do you believe that the Los Angeles Dodgers are being 'inclusive and welcoming to everyone' by giving an award to a group of gay and transgender drag performers that intentionally mocks and degrades Christians—and not only Christians, but nuns, who devote their lives to serving others?" he wrote.
After backlash from LGBTQ activists, the Dodgers apologized to the drag queen group in a statement on Monday and promised to feature them at the team's LGBTQ+ Pride Night on June 16.
"After much thoughtful feedback from our diverse communities, honest conversations within the Los Angeles Dodgers organization and generous discussions with the Sisters of Perpetual Indulgence, the Los Angeles Dodgers would like to offer our sincerest apologies to the Sisters of Perpetual Indulgence, members of the LGBTQ+ community and their friends and families," the statement said.
"We have asked the Sisters of Perpetual Indulgence to take their place on the field at our 10th annual LGBTQ+ Pride Night on June 16th. We are pleased to share that they have agreed to receive the gratitude of our collective communities for the lifesaving work that they have done tirelessly for decades," it added.
The Dodgers concluded with a promise to "work with our LGBTQ+ partners to better educate ourselves, find ways to strengthen the ties that bind, and use our platform to support all of our fans who make up the diversity of the Dodgers family."
— Los Angeles Dodgers (@Dodgers) May 22, 2023
People on social media either celebrated the decision to invite the drag queen group or denounced the Dodgers for caving to LGBTQ activist pressure.
"The weakest possible response. Long may your sales suffer. Enjoy your Anheuser-Busch treatment!" said Sour Patch Lyds.
"Disgraceful," said Babylon Bee CEO Seth Dillon.
"You are cowards to cave to anti-Catholic neo-Marxist drag queens. You are thumbing your nose at all your Christian fans. Did you learn nothing from the Bud Light boycott?" said Liz Wheeler.
Wow. The Dodgers bowed to the mob and re-invited these creeps to take the field. Just to be clear: They are going to HONOR a bunch of guys who dress up as bizarro nuns and mock Catholicism. They even mock Jesus and Mary. How can any Catholic – or any decent person – buy another… https://t.co/QyUexwHbN3

— Gerry Callahan (@GerryCallahan) May 23, 2023
The demons who run the Rainbow Mafia are not hiding their hatred of Christianity. This kind of evil — the kind that targets your child for sexual mutilation and exploitation — cannot be negotiated with. It must be destroyed and eradicated. https://t.co/gEi8wC1Ewg

— Sean Davis (@seanmdav) May 23, 2023
Dodgers apologize to a group that mocks Catholicism w/ sacrilegious drag "nun" performances (complete w, crucifixes). They are very sorry they flinched from providing a venue for Catholic hate. They will educate themselves so they will not be afraid to spit on Catholics in the… https://t.co/i1o50QgzKO

— Megan Basham (@megbasham) May 23, 2023
The @Dodgers have reversed their decision and will now celebrate "go and sin some more" anti-Catholic bigotry. This is a slap in the face of every Catholic. https://t.co/NhvvZAb49A

— CatholicVote (@CatholicVote) May 23, 2023
I find it interesting that a large percentage of dodger fans are Latinos and Latinos are usually raised Catholic. To have men who make a mockery of Jesus & pretend to be hero's is one more reason why you should ditch the Dodgers https://t.co/ONA04G9bNx

— Denise Aguilar (@InformedMama209) May 23, 2023
Remember this vicious contempt for Christians and Catholics when the @Dodgers and @MLB urge you to spend money on them… https://t.co/ukZOtoA3kF

— Tom Fitton (@TomFitton) May 23, 2023
It's official: The Dodgers hate their Catholic fans and players. https://t.co/5vqjCbDKbc

— Jon Gabriel (@exjon) May 23, 2023
Paul Roland Bois joined Breitbart News in 2021. He also directed the award-winning feature film, EXEMPLUM, which can be viewed on Tubi, Google Play, YouTube Movies, or Vimeo on Demand. Follow him on Twitter @prolandfilms or Instagram @prolandfilms.
Most Related Links :
Latest News||Sports News||Uk News