Travel
BREAKING: French unions announce new day of strikes against pension reform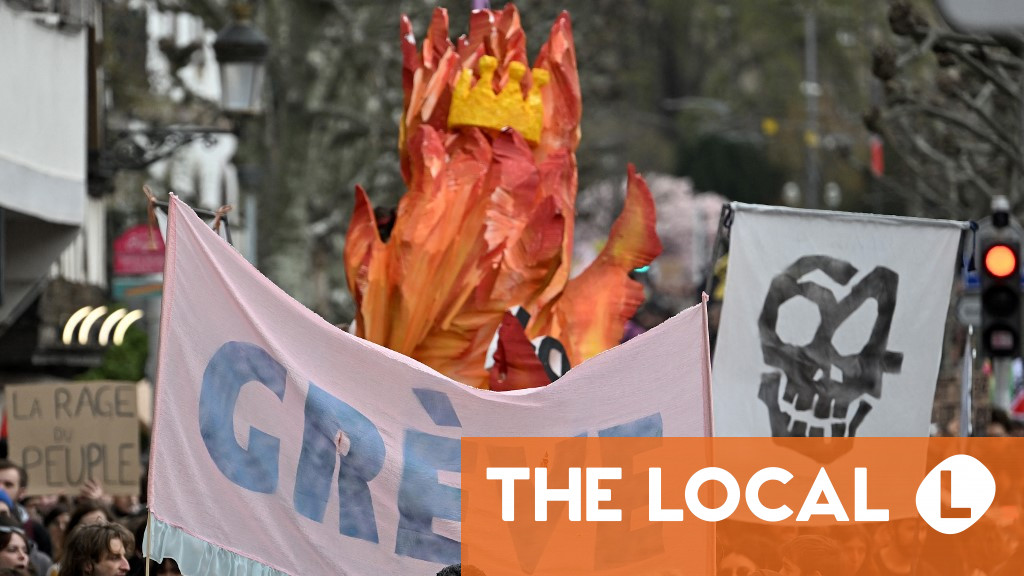 Protests against pension reform ended in violence in many French cities on Thursday including in the French capital Paris where a hardcore minority of demonstrators clashed with police.
Police fired teargas and baton-charged crowds on the Grands Boulevards thoroughfare in Paris after some protesters were seen throwing bottles stones and directing fireworks at the security forces, live television pictures showed.
A barricade burns during a demonstration in Paris on March 23, 2023. (Photo by Emmanuel DUNAND / AFP)
Fires were lit in the street, with pallets and piles of uncollected rubbish set ablaze, prompting firefighters to intervene, AFP correspondents said.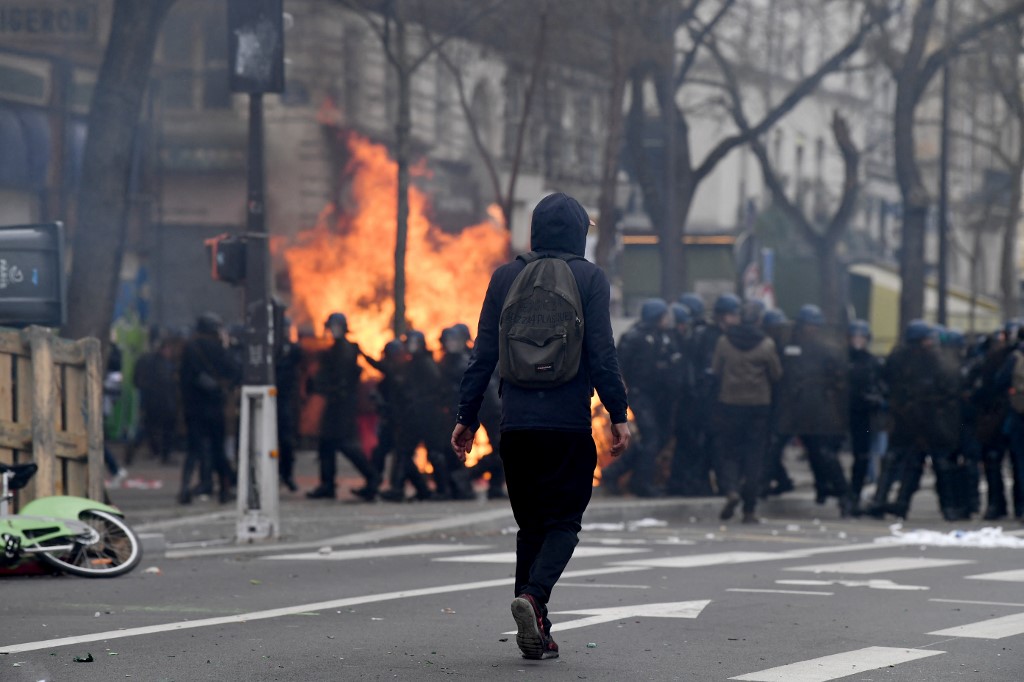 A person walks near a fire and French riot police during a demonstration in Paris on March 23, 2023, (Photo by Alain JOCARD / AFP)
Several hundred black-clad radical demonstrators were breaking windows of banks, shops and fast-food outlets, and destroying street furniture, AFP journalists witnessed.
French police estimated the number of "radical" protesters who had joined the march intent on clashing with police at around 1,500.
The vast majority of marchers walked peacefully through the centre of Paris as has been the case in previous protests against pension reform.
The aim of many people's anger was the president himself.
"I found him very authoritarian. He doesn't listen," Solange Le Nuz, a 28-year-old engineer protesting in Paris, told AFP.
Some 1.089 million protesters took part in demonstrations in France on Thursday the interior ministry said, with 119,000 marching in Paris alone.
The number for the capital is the highest since protests against the reform began in January.
Nationwide, it was more than double the turnout seen at the last big protest day on March 15th.
But it fell short of the 1.28 million people who marched on March 7th.
Earlier the hard-left CGT union said that 3.5 million people had marched, including 800,000 in the capital.
On Thursday evening French unions called for another day of mass strikes for Tuesday March 28th with the conflict over the reform showing no sign of abating. 
🚨🇫🇷URGENT – Les #CRS sont obligés de se replier face aux nombreux jets de projectiles des manifestants sur la Place de l'Opéra à #Paris. pic.twitter.com/40MmJ3rRU9

— AlertesInfos (@AlertesInfos) March 23, 2023
Thursday's March in Paris march began at Place de la Bastille and headed through the centre of the city to Place de l'Opera, which was surrounded by riot police. Clashes between police and a violent element of protesters around the famous Opera house continued into the early evening as police tried to disperse the crowds.
Images shared on social media showed a police officer knocked out after reportedly being hit by a projectile. He was dragged away by fellow officers.
Police reported 26 arrests by 6pm with those detained suspected mostly of possessing illegal weapons or planning to damage property or commit acts of violence.
MANIFS / RETRAITES : La tension monte à Paris. Des affrontements sont en cours. Un policier est à terre après avoir reçu un projectile. #greve23mars pic.twitter.com/eqImp3ZF9m

— Infos Françaises (@InfosFrancaises) March 23, 2023
Around five thousand security forces were put on duty in Paris on Thursday amid fears of violence, after almost a weekly of nightly trouble flaring in the capital.
Thousands of police were deployed across the country with similar clashes taking place in Lyon, Dijon, Nantes and Rennes.
Grosses tensions en cours place de l'Opéra. Beaucoup de tirs de mortiers d'artifice et répliques de lacrymo. @Le_Figaro pic.twitter.com/GTmLyIC4t6

— Hugues Maillot (@HuguesMaillot) March 23, 2023
La Place de l'#Opéra est noire de monde#Manif23mars #ReformeDesRetraites #Manifestation pic.twitter.com/VtTGuHN1JV

— QG le média libre (@LibreQg) March 23, 2023
Last Thursday, the day the government used Article 49.3 to push pension reform through parliament, opposition leaders called on people to take to the street to 'demonstrate their anger' at the move. Since then, there have been hundreds of arrests as small groups of protesters have taken to the streets nightly.
You can listen to The Local's journalists decode the political crisis in France in our Talking France podcast on Spotify, Apple or Google podcasts.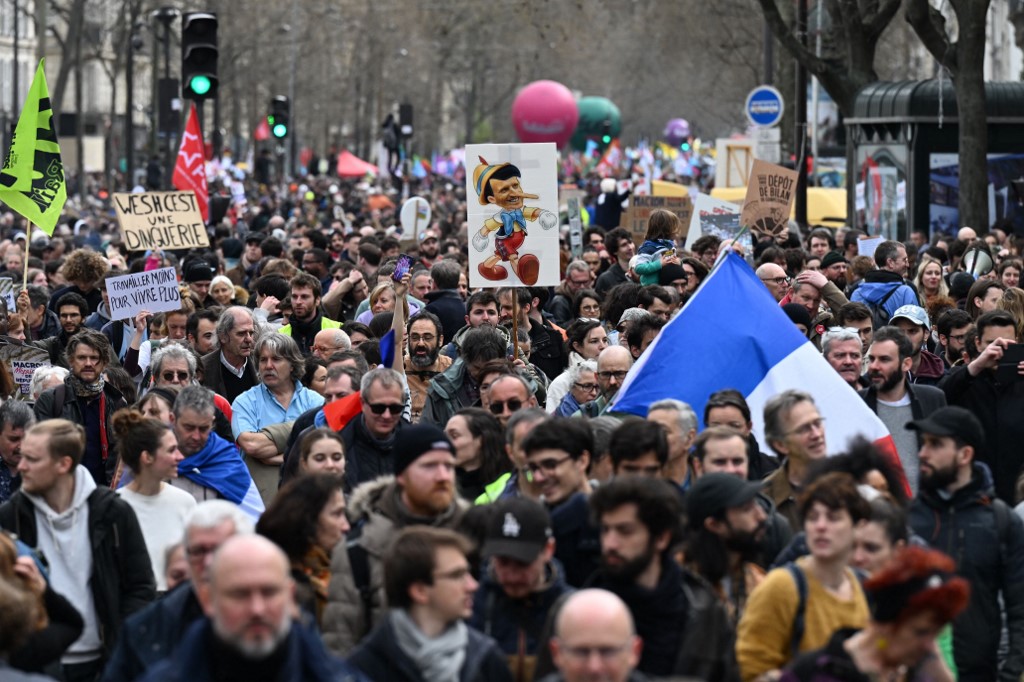 People take part in a demonstration, a week after the government pushed a pensions reform through parliament without a vote, using the article 49.3 of the constitution, in Paris on March 23, 2023. – (Photo by Emmanuel DUNAND / AFP)
Protesters have set fire to street furniture, bins and piled and rubbish while police have responded with tear gas and water cannon.
EXPLAINED: Why do the French police love to use tear gas so much?
Thursday's protests were the latest in a string of nationwide stoppages that began in mid-January against the pension changes.
In the southern city of Marseille, Marine Danaux, 43, said she had brought her son to the protest "so he realises what's going on".
The ministry of energy transition on Thursday warned that kerosene supply to the capital and its airports was becoming "critical" as blockages at oil refineries continued.
Spontaneous protests have broken out on a daily basis in recent days, leading to hundreds of arrests and accusations of heavy-handed tactics by police.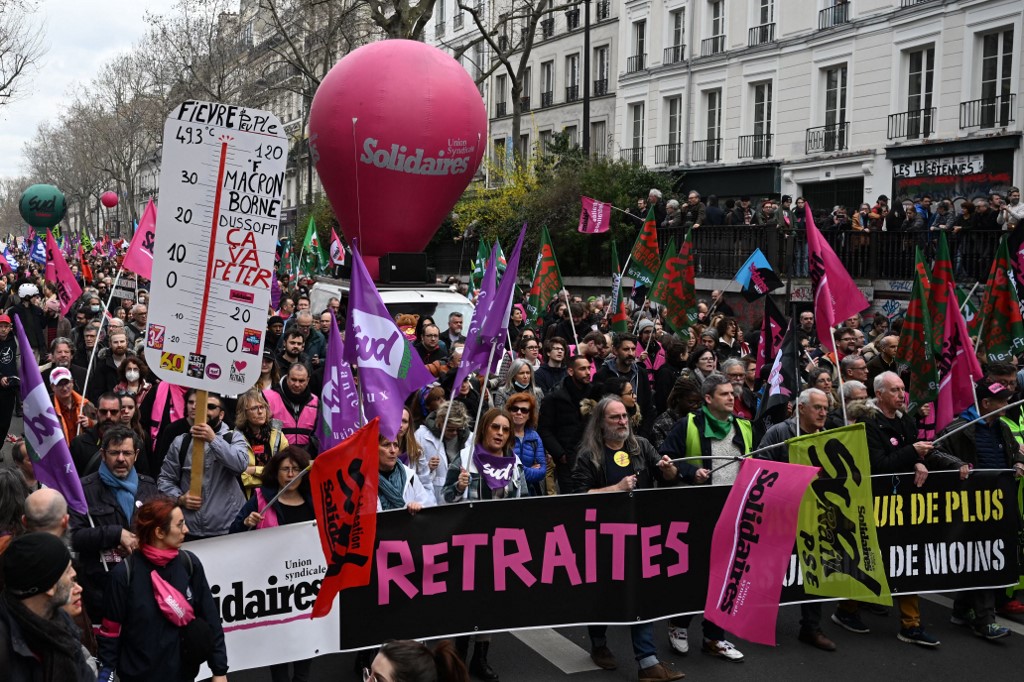 People take part in a demonstration, a week after the government pushed a pensions reform through parliament without a vote, using the article 49.3 of the constitution, in Paris on March 23, 2023. -(Photo by Emmanuel DUNAND / AFP)
Amnesty International has expressed alarm "about the widespread use of excessive force and arbitrary arrests reported in several media outlets".
Macron said Wednesday that the pensions changes needed to "come into force by the end of the year".
Backtracking on earlier comments that the crowds demonstrating had "no legitimacy", he said organised protests were "legitimate", but violence should be condemned and blockages should not impede normal activity.
UK's King Charles III is due to arrive Sunday for his first foreign state visit as monarch.
French public sector trade unionists have warned they will not provide red carpets during the visit, but non-striking workers are expected to roll them out.
Most Related Links :
primenewsprint Governmental News Finance News