Sports
After tough hit last time on the ice, Vince Dunn returns to Kraken lineup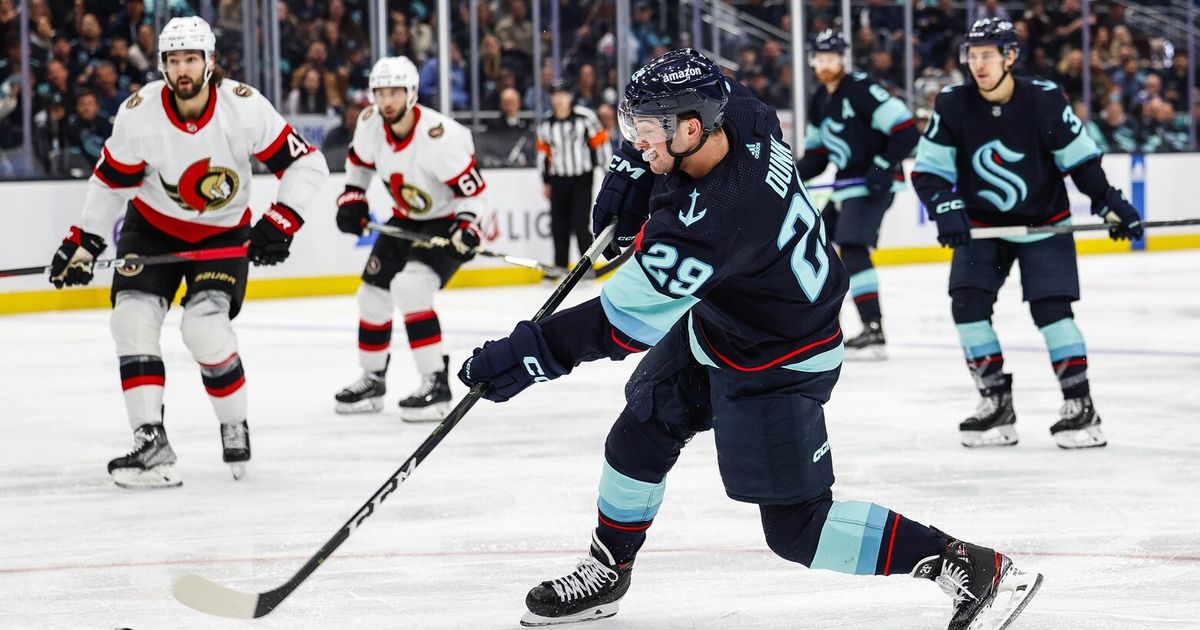 After leaving the Kraken's previous game bloody and upset, defenseman Vince Dunn was back in the thick of things Thursday night.
The Kraken would have sorely missed Dunn, who makes up half of the longstanding top defensive pair. He's also a major part of the power play and the team's third-leading scorer. Dunn was visibly upset after he was laid out to the left of Phillip Grubauer's net on Tuesday night by Anaheim's Max Comtois. Back on the bench, he yelled at those on the ice and smacked his stick on the nearby glass.
He drew an unsportsmanlike conduct penalty, which he only served part of. Kraken coach Dave Hakstol said Dunn was pulled because of a "call from up top," shorthand for concussion spotters.
Dunn was in a normal jersey for morning skate Thursday.
"There's been zero talk about it inside of our room," Hakstol said. "For Dunner, I haven't asked him if he's looked at it in video or not. He was there in the moment, so he probably doesn't need to."
Dunn more or less confirmed that.
"I'm not really thinking about it. I'm looking forward to tonight's game against Ottawa," said Dunn, the gash on his nose healing nicely.
It was, anyway. Shortly after Jaden Schwartz tipped in Dunn's shot from inside the blue line to get the Kraken within a goal, Dunn drew a high-sticking penalty and dabbed at his nose, checking for blood, as Claude Giroux headed to the penalty box.
Dunn went on to score the go-ahead goal early in the third period, making it 4-3 Kraken.
What does it take to be No. 1?
While confirming Grubauer would make his fifth consecutive start Thursday against the Ottawa Senators, Hakstol shut down discussion surrounding the Kraken's No. 1 goaltender.
"Jonesy's top eight in the league in wins. Grubi's playing really well," he said. "I'm going to push replay on what I said — we've got two pretty good goaltenders that are a big part of where we're at."
Recent history tells a different story. While Martin Jones carried the Kraken to a wildly improved start, Grubauer has started 11 of the Kraken's past 13 games. Hakstol stood by him Thursday night when the Senators went up 3-0 in the first nine minutes. He called his timeout, but left Grubauer in the game.
Remaining on the bench was Jones, who sits 24-10-3. His win total was tied for eighth heading into Thursday night's slate.
Quick turnaround
Daniel Sprong turned in a replay-worthy assist on Thursday.
Sprong finished serving a holding penalty 8:04 into the second period and hopped out of the box, quickly rejoining the play. About three seconds later, he put a shot on net that Jared McCann converted into the game-tying goal. It all went down in seven seconds.
He's played sparingly since the All-Star break, but Sprong has a goal and an assist in his past two outings.
Most Related Links :
primenewsprint Governmental News Finance News