Science
AceMagician AMR5 Mini PC review: An affordable and compact option for students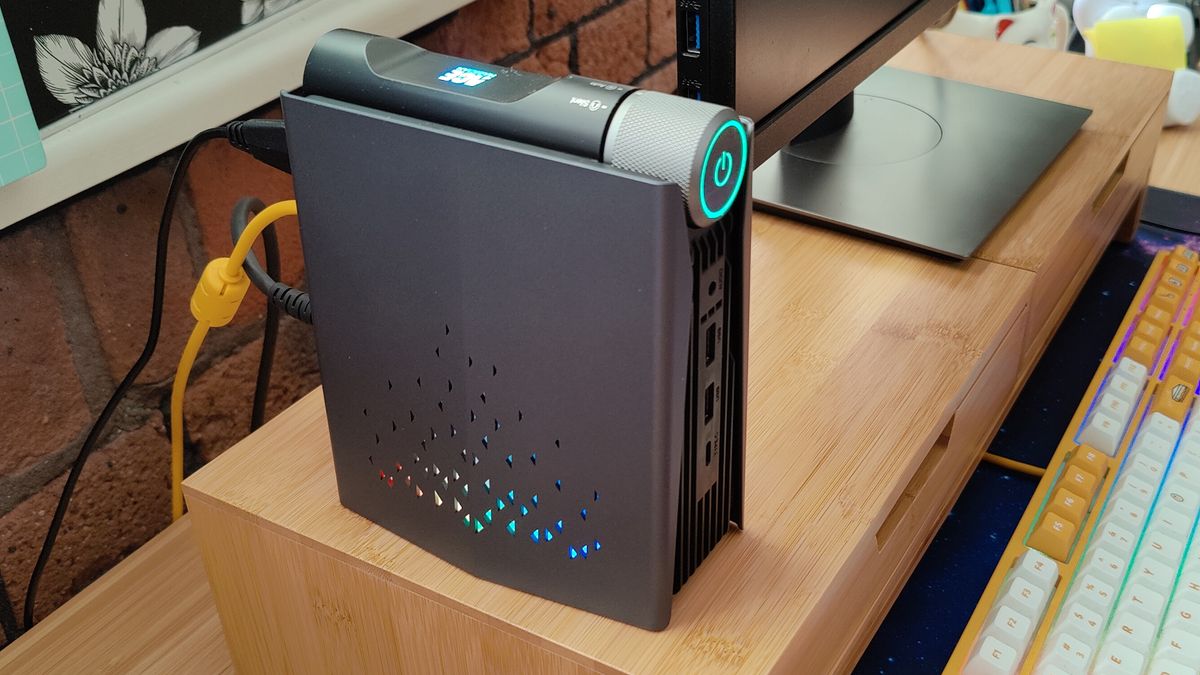 The AMR5 Mini PC from AceMagician is a budget mini PC that offers great performance and stylish design for a very reasonable price.
Key specs
Price: $449.99
Weight: 2.7 lbs (1.225 kg)
Memory: 16 GB or 32GB
Storage: 512 GB SSD
Warranty: 3 year
Operating system: Windows 11
CPU: AMD Ryzen 5 5600U
Graphics: Integrated AMD Radeon RX Vega 7
Ports: 4 x USB 3.0, 1 x USB-C, HDMI, DisplayPort, LAN, 3.5 mm headphone jack, DC power.
Mini PCs offer a fantastic alternative to laptops for people who want a computer but don't want to pay for portability that they're not going to use. It's effectively laptop hardware, but without the screen, keyboard, trackpad, and battery components. As you can imagine, that means they're usually a good bit cheaper than laptops of similar specs. They can be ideal for students living in dorms who don't have the space, or money, for a big desktop PC.
The AMR5 comes equipped with an AMD Ryzen 5 5600U CPU, 16GB of DDR4 RAM, and an 512GB NVMe SSD for storage. It also has Windows 11 pre-installed and comes with both WiFi and Bluetooth capabilities, along with a host of ports for connecting your hardware. 
AceMagician markets the AMR5 as a gaming PC and it's certainly capable of running games with moderate requirements with those specs, but you're not going to be playing new AAA games like Star Wars Jedi Survivor at high settings. If you need something small, stylish, capable, and affordable though, the AMR5 has you covered. Let's have a closer look.
AMR5 Mini PC: Design & features
Compact, sleek design.
Good number of ports.
Adjustable RGB lighting.
First impressions are good with the AMR5 – it's a gorgeous looking piece of kit with a sleek and premium design aesthetic. The main body is composed of a dark gray hard plastic shell, with a triangular pattern cut into it. The central column of the PC is black, with the exception of the performance control dial which has a metallic silver finish.
Those triangular holes cut in the panel aren't just a pretty pattern – they're where the adjustable RGB lighting shines out from. As soon as you turn on the computer you'll be greeted to a rainbow light show from the main body, as well as the AceMagician logo on the top. It might be a bit garish for some people, but this is a device primarily aimed at gamers, and gamers love illuminated hardware. The performance control dial also lights up, and switching silent, default, or performance modes will shift all the lighting to blue, green, or red respectively. The center of this dial also serves as the power button.
To maximize the limited space, there are ports on both the front and back of the tower. There are two USB 3.0, one USB type-C, and an audio jack on the front, and then two more USB 3.0, DisplayPort, HDMI, LAN, and DC power connections on the rear. Considering the limited space they had to work with, we're impressed with the port selection here. The only thing to watch out for is that single HDMI port – you'll need to buy a HDMI splitter to run multiple monitors. It also has both WiFi and Bluetooth capabilities, so you can connect it to the net and other devices wirelessly if needs be.
You can also remove one of the side panels, which is attached via two hooked arms and some magnets. From here, you have easy access to the RAM if you want to swap it out and upgrade the PC. Laptops are usually difficult to modify, so it's nice to see AceMagician taking advantage of the PC form-factor here to offer upgradeable laptop hardware.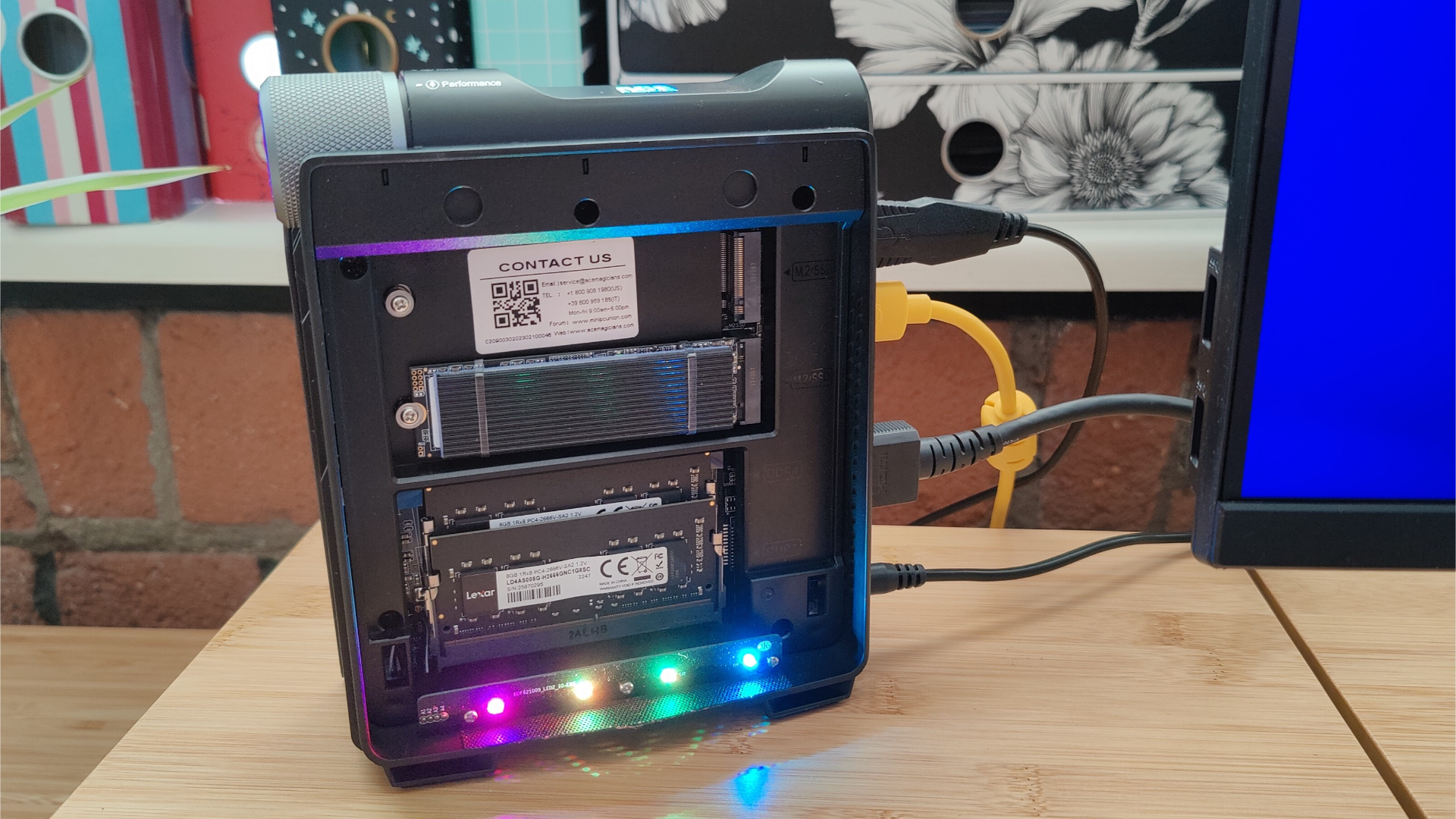 AMR5 Mini PC: Specs & performance
Decent budget gaming laptop hardware.
Won't handle 4K video editing or high-end gaming
As we mentioned in the intro, mini PCs typically offer laptop hardware and not the massive components you find in regular PCs. The AMR5 is running on a AMD Ryzen 5 5600U mobile CPU. This is a solid mid-range CPU that you'd expect to find in laptops in that $500 – $1000 price bracket, like the HP Envy x360 13. Geekbench scored this 5600U at 1630 and 5711 for single and multi-core benchmarks respectively, which is a great score at this price range and more than enough power for most people's uses.
Alongside that, you get a respectable 16GB of DDR4 RAM and a 512 GB NVMe SSD. On the graphics front, the AMR5 is equipped with an integrated Radeon RX Vega7 GPU. Despite its posturing as a gaming PC, It's not going to run the latest games on high settings, but AceMagician has shown smooth 1080p/60FPS performance on titles like GTA 5, The Witcher 3, and Final Fantasy 14 on the Amazon store page. For our part, we played several titles on the AMR5 including the recently released Warhammer 40,000: Boltgun and we had no issues with performance.
For more work-oriented tasks, the AMR5 can comfortably handle running multiple tabs and programs, so you can research on the web, type up essays, or edit photos with no issues. It's also going to be a great alternative to a laptop for coders and programmers on a budget, with a solid CPU, 16GB of RAM and a decent dedicated GPU. Video editing will stretch the hardware more, but it should be able to handle HD video – if you need to edit 4K or higher videos, maybe look at more powerful devices like the MacBook Pro.
As we mentioned earlier, the AMR5 has three power modes that you can cycle through using the dial on the front. These control the power usage and fan speed. They don't magically make the hardware better, but they do help it manage its heat and power better during high performance tasks. Silent mode is fine for browsing the web or typing up work, performance mode is for when you're doing something resource intensive like gaming or photo editing, and auto mode sits somewhere in the middle.
AMR5 Mini PC: Price & warranty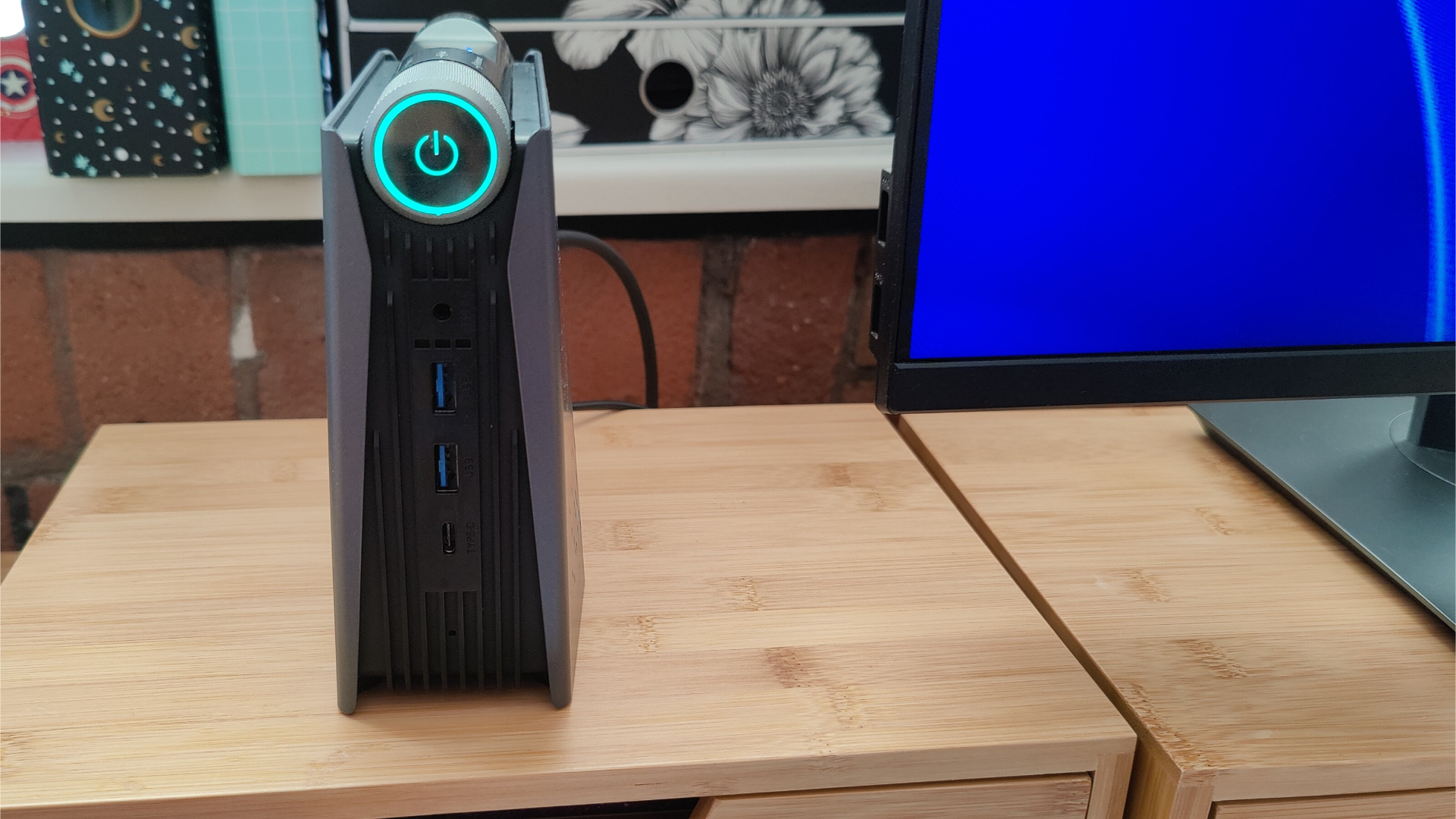 The AMR5 AMD Ryzen 5 5600U Mini PC costs $449 on the AceMagician website, and can also be purchased via Amazon where it has a standard price of $499 at time of writing. We've seen pretty decent discounts to this price on both stores though, with Amazon offering the AMR5 for as low as $379.
Honestly, the AMR5 is great value for money at its standard price, and an absolute steal if you can find it on offer. AceMagician also offers a very generous 36-month limited warranty on their website provided you have proof of purchase.
It's worth bearing in mind that unless you already have them, you'll need to bolt on the cost of a monitor, mouse, and keyboard to that price. It'll still likely be cheaper than an equivalent laptop, but it's an extra expense that you need to weigh up.
AMR5 Mini PC: User reviews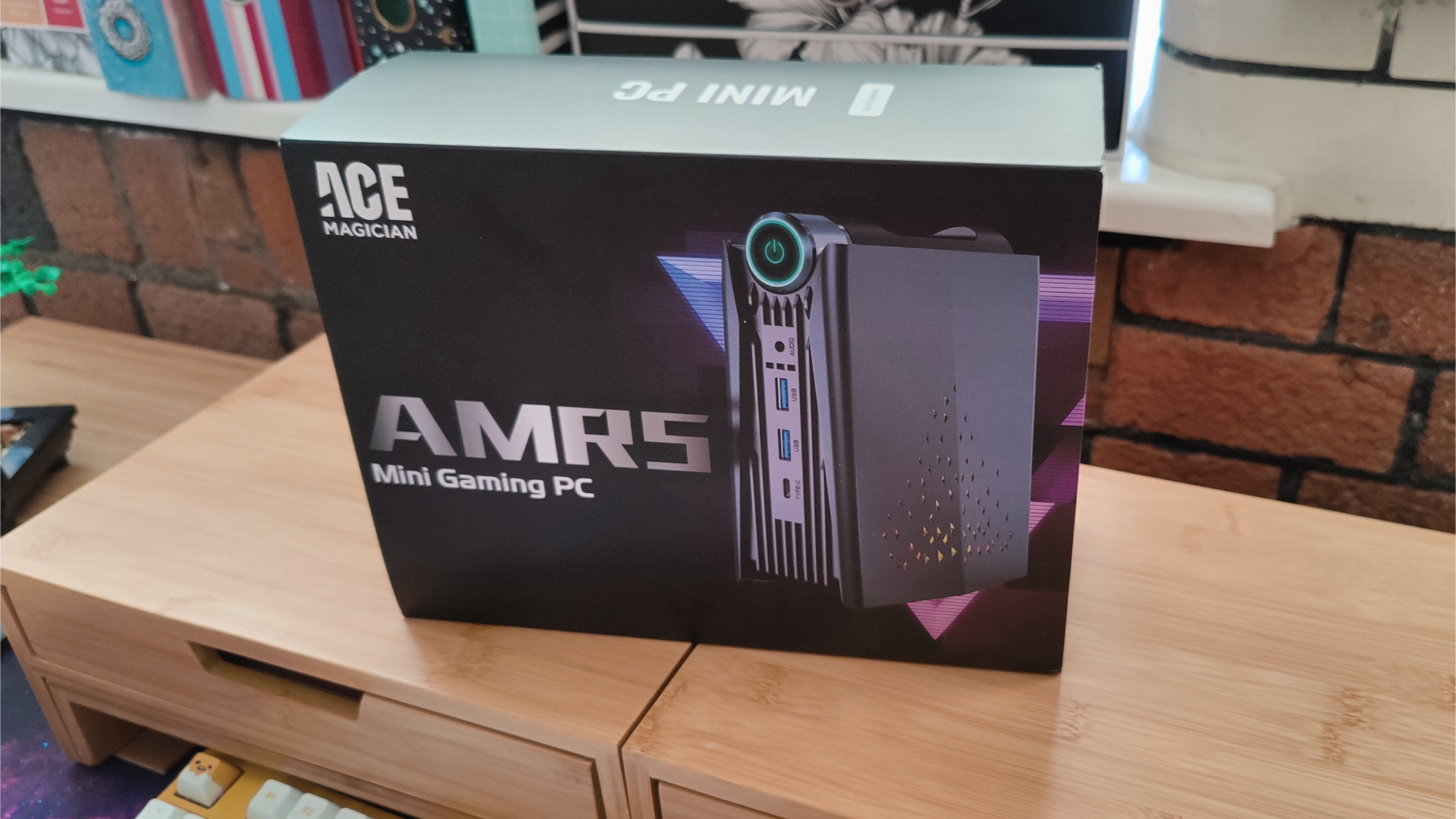 On Amazon, the AMR5 Mini PC has an average user score of 4.5 stars out of 5 from 550 ratings, with 77% of those ratings being 5-star scores. That's an impressive set of user reviews. There are fewer reviews on the AceMagician website, but they're no less impressive, with 54 reviews and an average rating of 4.8 stars out of 5.
In the reviews themselves, users praised the Mini PC as a great device that offers excellent value for money, while numerous reviewers also noted that they had "excellent customer service".
Should you buy the AMR5 Mini PC?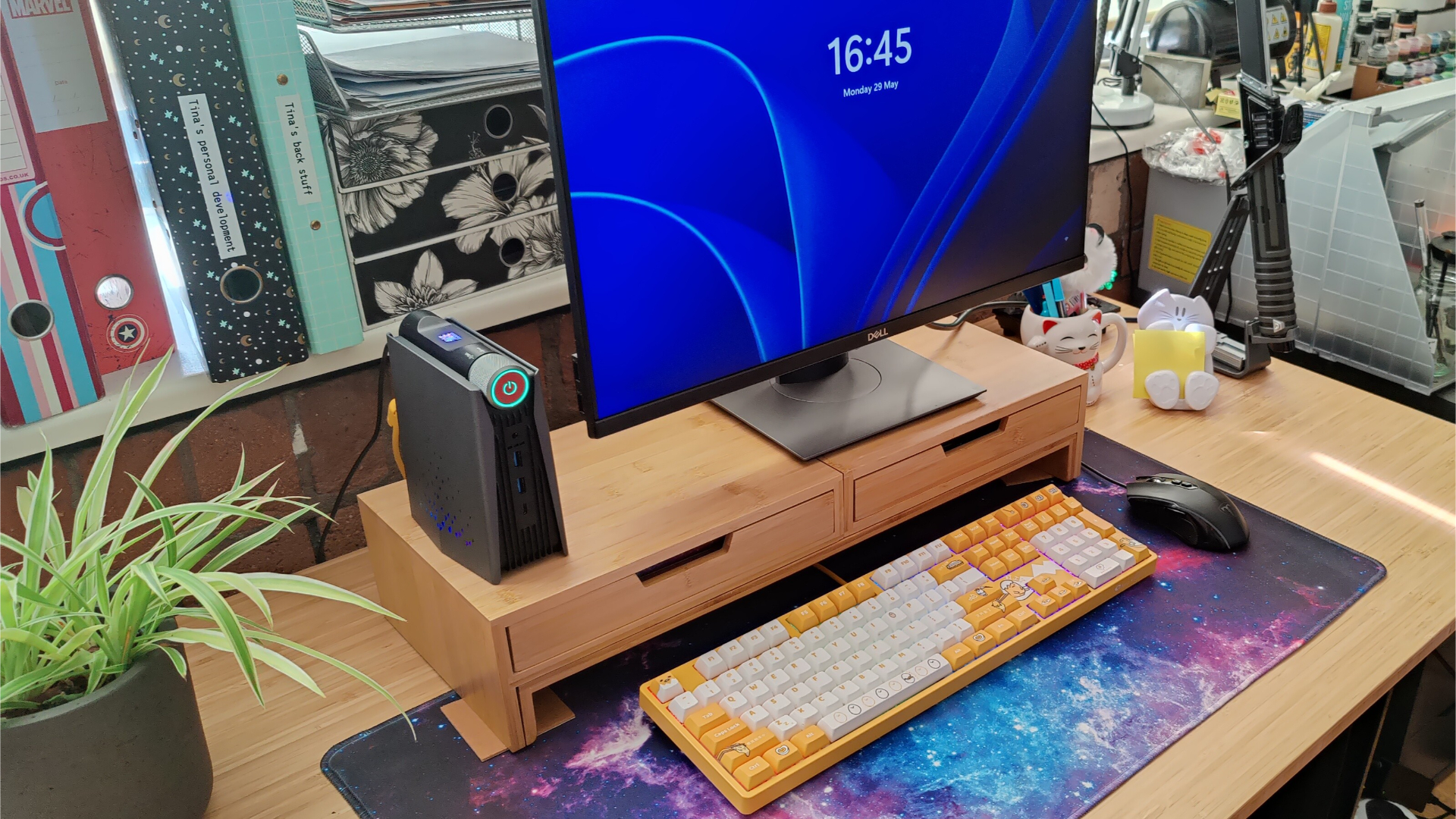 If you're looking for an affordable, stylish computer to help you study, work, and game, then the AMR5 Mini PC is an excellent choice. It's cheap, well-built, and has great hardware for the price you pay. It's not going to blow really high-end laptops and PCs out of the water, but we think it's a fantastic all-rounder that can handle anything your average user will throw at it.
Mini PCs (and to be honest, desktop PCs in general) are a bit of a niche choice these days, where people tend to prefer the flexibility of a laptop, but if you really don't need the portability they offer, then desktops still reign supreme in terms of value for money. If you need something for heavy video editing or top-end AAA gaming then look elsewhere, but for just about everyone else, we think the AMR5 is an excellent budget PC.
If this mini PC isn't for you?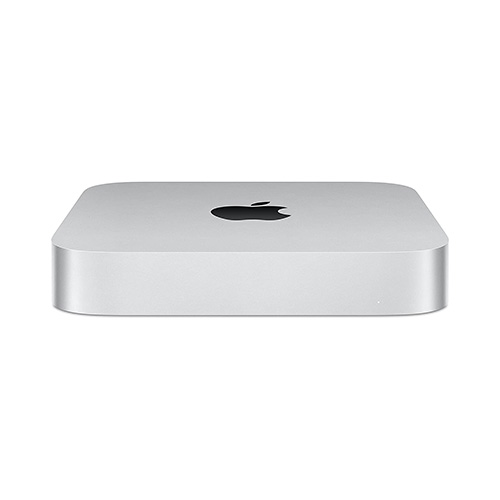 MacOS alternative
The Mac Mini M2 is almost as cheap and has a better CPU, but you'll pay extra to get the same RAM and storage.
Against
More expensive
Less RAM & storage unless you pay even more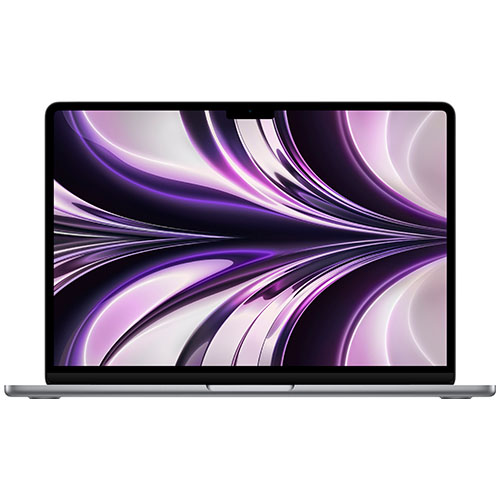 MacOS laptop alternative
If you need the portability of a laptop, the MacBook Air M2 is stylish, powerful, and has solid battery life. 
For
Great performance
Excellent battery life
Portable
Against
More Expensive
No fast charger
Most Related Links :
Latest News||Sports News||Uk News