News
TikTok pleads for its U.S. future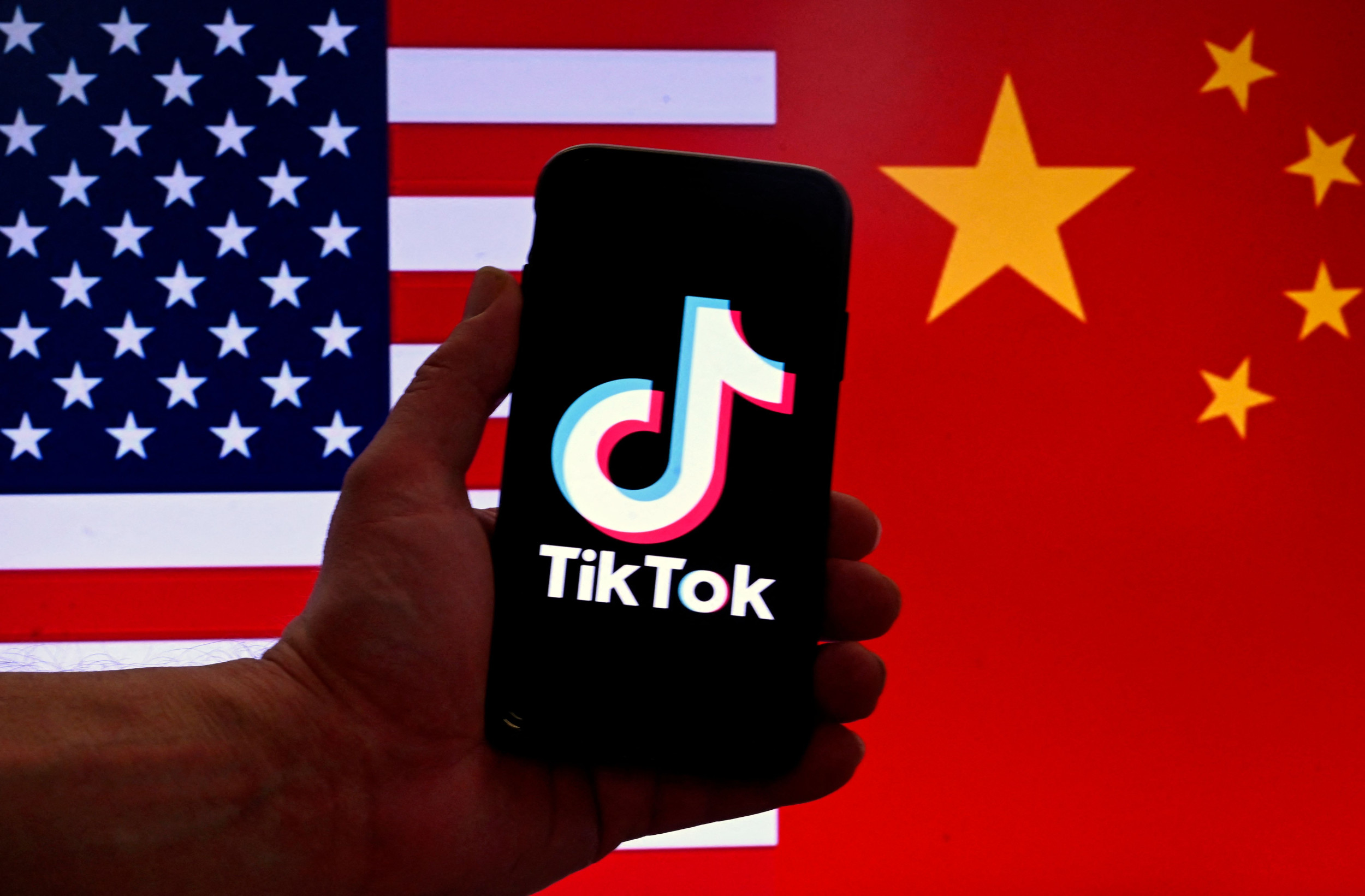 Nearly half the U.S. population could lose access to TikTok if the popular app is banned in the United States, the social media company's chief executive will tell lawmakers on Thursday.
Shou Zi Chew is representing the platform in its first appearance before Congress at a hearing scheduled for 10 a.m. ET. The Singapore-born CEO faces the unenviable task of persuading policymakers on Capitol Hill to set aside years of national security concerns related to the app's corporate links to China.
Among Chew's arguments is that TikTok, which has a head office in Los Angeles, is a conduit for U.S. soft power, with American users enjoying considerable cultural influence on the app, according to his prepared remarks made available by the House Committee on Energy and Commerce.
He will testify, perhaps less convincingly, that TikTok is safer than most of its U.S.-based competitors. Subject matter experts might challenge that assertion, but they also acknowledge the need for broader policy reforms that target social media governance.
Data privacy analysts and national security officials argue the otherwise benign short-form video app poses at least two major challenges: It collects a sizable, yet opaque, amount of user information and controls a powerful algorithm that decides what users see on their screen.
These concerns aren't unique to TikTok—other platforms operate in similar ways—but in this case, the unease has roots in Beijing, where the company's parent company, ByteDance, is headquartered.
China's long-ruling Communist Party, researchers argue, has established legal means to compel private entities to turn over select data on national security grounds. Chinese officials, through ByteDance, could also manipulate TikTok's proprietary software in order to show favorable content to American audiences.
"It's the ownership of the CCP that fundamentally cuts across all those concerns," FBI Director Christopher Wray told the House Intelligence Committee earlier this month. "It's control of the algorithm, it's access to the data, and it's control of the software, which allows access to the devices."
General Paul Nakasone, director of the National Security Agency, likened the combination of vulnerabilities to handing America's youth "a loaded gun." Chew called the speculation "emphatically untrue."
In his testimony, he will commit to the protection of U.S. data from unauthorized foreign government access and ensure the platform remains free of any government manipulation.
To address the first concern, Chew said the company would see through a project to store user data in the U.S. in collaboration with Texas-based database management firm Oracle, which he said had already been granted unprecedented access to TikTok's source code and algorithm. Historical U.S. user data not on Oracle's servers would be deleted later this year.
"TikTok has never shared, or received a request to share, U.S. user data with the Chinese government. Nor would TikTok honor such a request if one were ever made," said Chew. "ByteDance is not an agent of China or any other country."
When it comes to the second concern, however, policymakers in Washington can only make do with repeated assurances.
China's Model App
TikTok owner ByteDance is also the developer of Douyin for the Chinese marketplace. The two apps share a similar interface but have no access to each other's content. Douyin's distinct lack of diverse political content is where it differs the most.
When it comes to online censorship and self-regulation, Douyin is a classic Chinese app. Its user base, which numbered between 600-700 million as of late last year, frequently loses access to content and searchable phrases that carry even the slightest hint of political satire, granting China's leaders indisputable immunity from accountability.
Users in China can't access TikTok—known there as "the international version of Douyin"—without a government-approved virtual private network. Users outside of China, however, could download Douyin by switching regions in their app store. This asymmetry of market access has played out with most Western social media websites since 2009.
TikTok may refuse a hypothetical request from the Chinese government to modify its content, but experts aren't convinced it would even have a choice. At its worst, Beijing could pressure the company into enabling its cyber espionage and transnational repression, including surveillance and harassment of journalists and dissidents.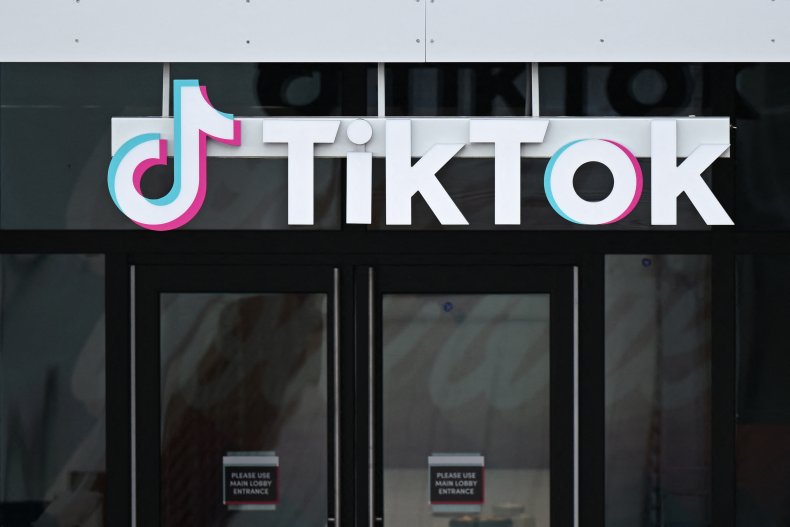 "An authoritarian government such as the Chinese Communist Party can compel a company within its jurisdiction, such as ByteDance, to fork over any data on U.S. citizens that it collects. That data could include private communications, our likes and dislikes, and what content we're sharing," said Lindsay Gorman, a senior fellow and head of technology and geopolitics at the German Marshall Fund's Alliance for Securing Democracy.
"There's a second layer of risk that applies," Gorman told Newsweek. "These social media platforms, including TikTok, build detailed user profiles, which could be used to target you in the same vein as authoritarian states like Russia have targeted voters in the past. It's really not a theoretical concern."
"This is another problem that is shared among social media platforms. If the Chinese Communist Party wants to influence public opinion in the United States, they can ask ByteDance to make a tweak to the TikTok algorithm that would be so subtle that we would never be able to track it because we don't have great transparency on when it's promoting, when it's demoting when the algorithm is showing this and not that," she said.
Last month, the Biden administration issued a TikTok ban on all government devices. America's Five Eyes allies—Canada, Britain, New Zealand and Australia—have done the same, as has the European Union.
"Connectivity creates really a ridiculous number of potential vulnerabilities. You can look at any major cybersecurity incident and look for the tiny, hidden, obscure vulnerability that a hacker located. I don't think the U.S. can afford to look at any of those things as benign anymore," said Blake Herzinger, a non-resident fellow at the American Enterprise Institute.
"The first thing that anyone who works in tech or consumes a tech product should consider is how the worst person on Earth would use this product and then act accordingly," Herzinger told Newsweek. "Anything with connectivity that is connected to a Chinese company—you have to assume that at least someone in China has evaluated the intelligence value or operational value of that tool to the CCP."
Tick-tock
TikTok has spent two years discussing mitigation options with the Treasury-led Committee on Foreign Investment in the United States, or CFIUS, the interagency panel that screens potentially risky foreign investments. But time is running out.
Reports have emerged of a federal investigation into ByteDance's use of TikTok to surveil U.S.-based journalists last year. The employees, who were probing the source of internal leaks, were fired. Chew said he condemned the misconduct "in the strongest possible terms."
In a statement to Newsweek last Thursday, TikTok confirmed that the U.S. government had advised ByteDance to sell the company or face a nationwide ban over the lingering cybersecurity concerns. The White House has backed Congress's bipartisan RESTRICT Act, which would immediately put TikTok under review and create data protection standards for foreign-owned entities seeking to enter the U.S. market in the future.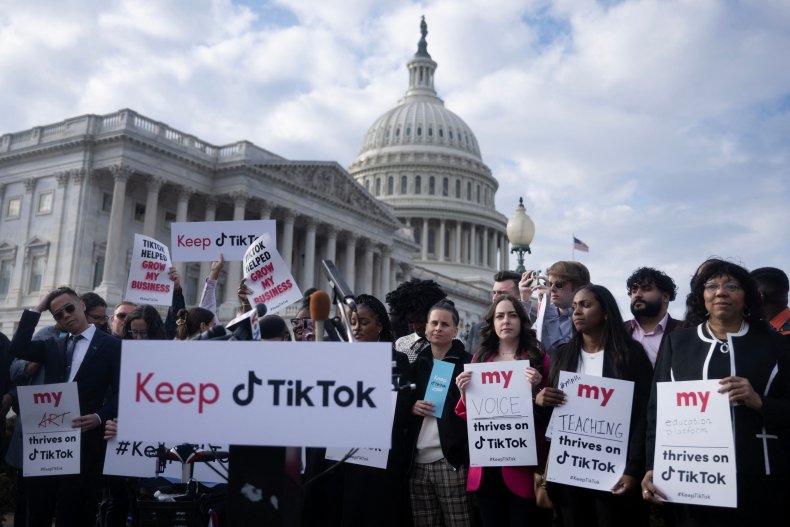 "We continue to believe that imposing state-of-the-art access and security controls is the best path forward, not only for TikTok, but for the industry as a whole, and we remain committed to continued consultation and to finding innovative answers to what we firmly believe are solvable concerns," Chew said in his prepared remarks.
"Likewise, divestment doesn't address the fundamental concerns that I have heard, as a change in ownership would not impose any new restrictions on data flows or access," he said.
To be sure, divestiture would be one small step in a long trek that ideally ends in new data privacy and social media standards, and platforms like TikTok may still fall short when it comes to guarding against misinformation, regardless of ownership.
"I don't disagree that we need to fix the social media platform architecture, but that's not a justification to ignore these China-specific problems today," said Gorman of ASD. "The reality is there's a ton of agreement on China and not a lot of agreement on how to regulate social media."
"It's a signal to the business community that the United States is taking its ties with authoritarian China seriously," she said. "I would hope that it raises awareness in the business community that they all need to be more diligent about who they're partnering with and their investments, and make sure that they're not inadvertently undermining democracy in the United States."
ByteDance would need approval from Chinese regulatory authorities before it could sell TikTok. Beijing has been highly critical of the recent discussion in Washington.
"The U.S. has yet to prove with evidence that TikTok threatens its national security. It should stop spreading disinformation about data security," Wang Wenbin, China's foreign ministry spokesperson, said last week. "We firmly oppose the U.S.'s overstretching of the concept of national security and its abuse of state power to hobble and plunder foreign companies."
"It is clear that TikTok will say anything to ensure that it is not banned in the United States of America," Representative Cathy McMorris Rodgers of Washington, the Republican chair of the House Energy and Commerce Committee, told Fox News on Wednesday.
TikTok may already have lost the room on the Hill, but Chew's ultimately aim may not be to convince lawmakers, but rather turn to public diplomacy to reach the voters who put them in power in the first place.
In a TikTok video this week, Chew said 150 million Americans and 5 million small and medium businesses use the app: "Some politicians have started talking about banning TikTok. Now this could take TikTok away from all 150 million of you."
Do you have a tip on a world news story that Newsweek should be covering? Do you have a question about TikTok? Let us know via [email protected].
Most Related Links :
primenewsprint Governmental News Finance News