News
King Charles' "emotional" coronation moment with William caught on camera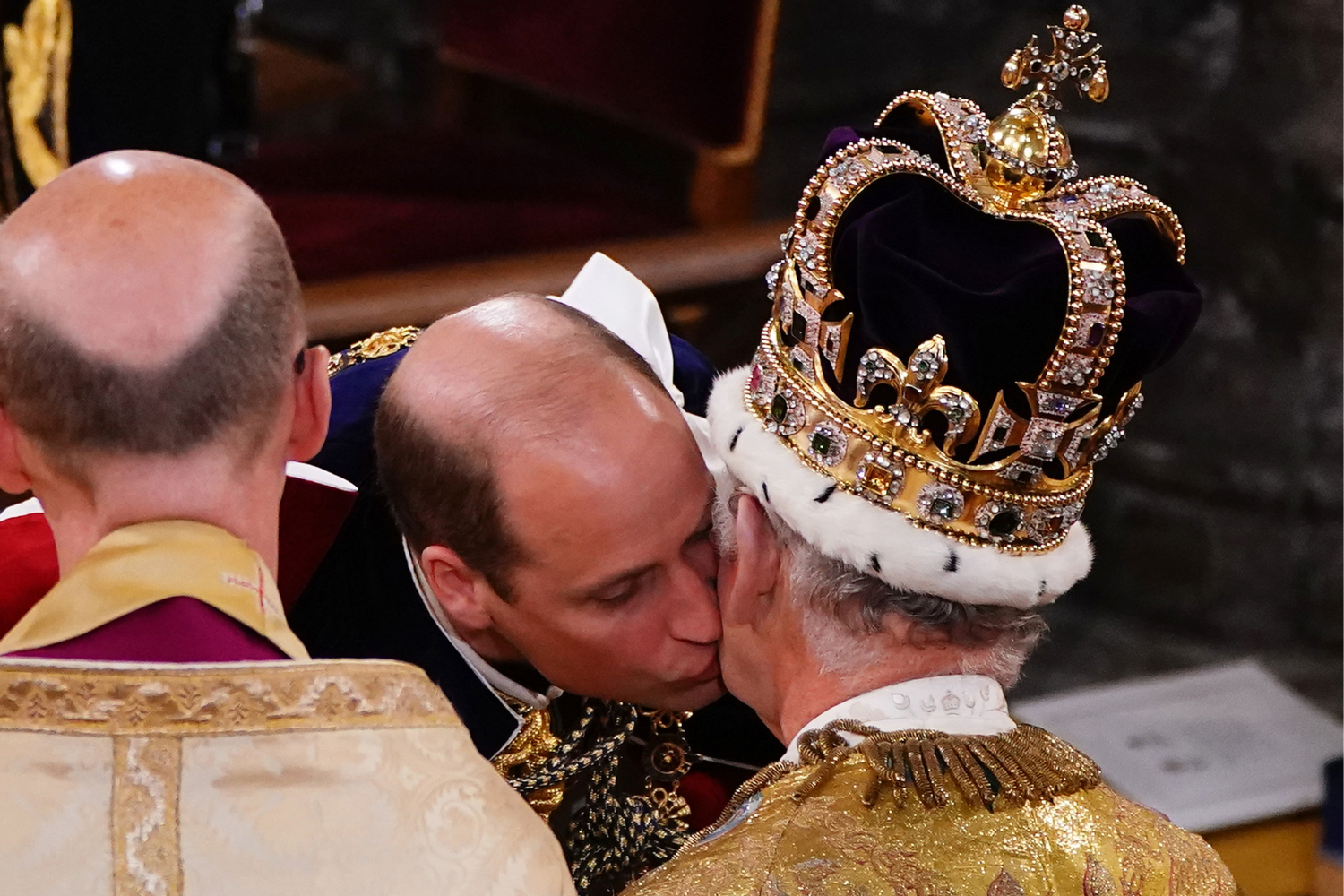 King Charles III's response to Prince William's swearing an oath of allegiance to him during his coronation at Westminster Abbey on Saturday has gone viral, with fans posting clips to numerous social media platforms.
Charles was crowned at the abbey alongside Queen Camilla in the presence of the assembled extended British royal family as well as other dignitaries, royal families from around the globe and world figures, including First Lady Jill Biden.
As part of the ancient ceremony, William, in his capacity as the monarch's son and Prince of Wales, paid what is referred to in the order of service as an "homage."
After Charles was crowned, William approached the throne and on one knee said the words: "I, William, Prince of Wales, pledge my loyalty to you, and faith and truth I will bear unto you, as your liege man of life and limb. So help me God."
He then touched the St Edward's crown and kissed his father on the cheek.
Posted to Twitter by user KaylaAdams___, a clip of this moment has been viewed nearly a million times since the ceremony in London. The video caption appears to suggest Charles says to his son in response to the homage: "Thank you, William."
On the video-sharing platform TikTok, another user highlighted the King's apparent emotion towards his eldest son. Uploaded by account, the.royal.watcher, the clip captioned "King Charles gets emotional as he thanks Prince William after he kisses him," has been viewed in excess of 2.5 million times and received in excess of 169,000 likes.
A number of comments on the post have praised the father and son moment on the most important day of Charles' life.
"That must have meant so much to King Charles. You could see the emotion in him. William is a wonderful son. ❤," wrote one user.
"How emotional this must be. Loved the way they hold hands 🥰 wills is amazing," said another, with a further post reading: "That bit was the best bit."
William was not the only one of King Charles' sons at the abbey on coronation day. Prince Harry made a special journey from his home in California to attend the event, although as he is no longer a working member of the monarchy, having left in 2020 with Meghan Markle, he did not play an official ceremonial role like his older brother.
Another member of the royal family who did have a role to play on the day was William's son, second in line to the throne, Prince George.
George performed the role of Page of Honour for his grandfather, walking behind him in the official coronation procession through the abbey and carrying his robe along with a group of other boys of a similar age connected with the royal family.
James Crawford-Smith is Newsweek's royal reporter based in London. You can find him on Twitter at @jrcrawfordsmith and read his stories on Newsweek's The Royals Facebook page.
Do you have a question about King Charles III, William and Kate, Meghan and Harry, or their family that you would like our experienced royal correspondents to answer? Email [email protected]. We'd love to hear from you.
Most Related Links :
Latest News||Sports News||Uk News