News
FBI director defies Kevin McCarthy's warning on documents deadline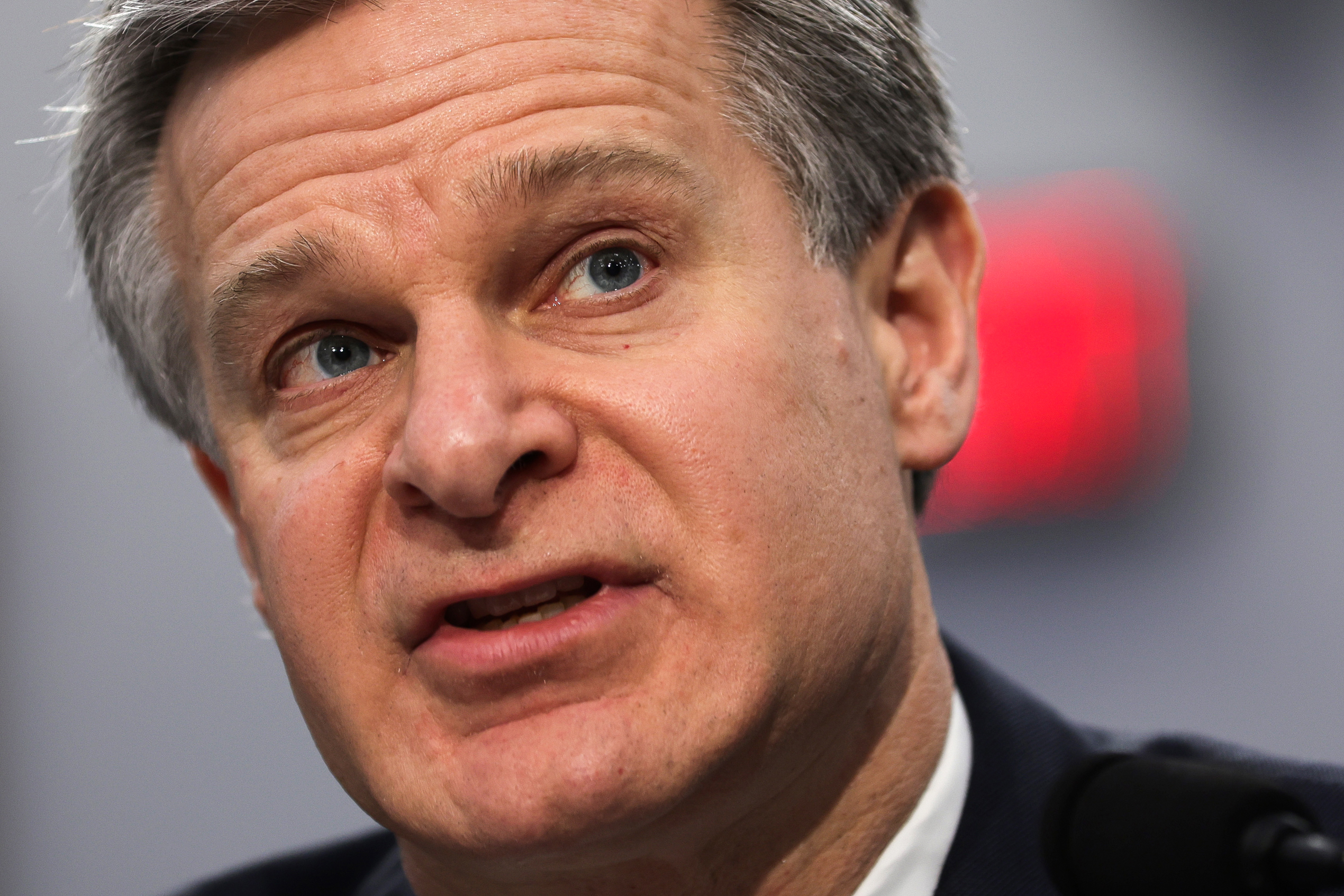 The FBI will not meet its deadline in a congressional subpoena related to an alleged "criminal scheme" involving President Joe Biden, although the bureau told Newsweek that it's cooperating with House Republicans to provide the requested information.
This month, Representative James Comer, chairman on the House Committee on Oversight and Accountability, sent a statement that he crafted with Iowa Senator Chuck Grassley claiming that a "highly credible" whistleblower had indicated that the FBI and the Justice Department were in possession of an unclassified form that "describes an alleged criminal scheme involving then-Vice President Biden and a foreign national."
The joint letter was issued with a subpoena to the FBI seeking all FD-1023 forms—ones describing conversations with a confidential human source—that had been "created or modified in June 2020" and contained the word "Biden." The bureau was given until May 30 to meet the request.
On Tuesday, the day of the deadline, Comer said that the House Oversight committee had been informed by the FBI that the bureau would not be complying with the subpoena, calling the move "obstructionist and unacceptable," vowing to take steps to hold FBI Director Christopher Wray in contempt of Congress.
"Americans deserve the truth, and the Oversight Committee will continue to demand transparency from this nation's chief law enforcement agency," Comer said in a statement shared to his Twitter account.
The FBI told Newsweek in an email Tuesday that it had sent a letter to Comer earlier in the day in which the bureau "committed to providing access to information responsive to the Committee's subpoena in a format and setting that maintains confidentiality and protects important security interests and the integrity of FBI investigations."
"Last week, Director Wray scheduled a telephone call for tomorrow to provide additional details of the FBI's extraordinary accommodation to satisfy the subpoena request," the email continued. "Any discussion of escalation under these circumstances is unnecessary."
In a copy of Tuesday's letter obtained by Politico, Christopher Dunham, FBI acting assistant director, pointed to a previous letter sent to Comer on May 10 stating that the bureau "is committed to working to provide the Committee information necessary for your legitimate oversight interests, while also protecting Executive Branch confidentiality interests and law enforcement responsibilities."
"In that same letter, we explained the significant limits on whether, when, and how confidential human source information can be provided outside of the FBI, and how those limits are critical to the physical safety of our sources and others identified in source reporting, as well as to the integrity of our confidential human source program and longstanding Department of Justice confidentiality interests," Dunham wrote.
Comer also mentioned in his statement on Tuesday that he had a call scheduled with Wray on Wednesday "to discuss his response further."
Several Republican lawmakers started the 2023 congressional term with a vow to increase its oversight of federal law enforcement agencies, claiming that the federal government has been "weaponized" under the Biden administration. In February, House Judiciary Committee Chairman Jim Jordan of Ohio filed the first subpoenas against the FBI seeking information on how the FBI handled threats at school board meetings in previous years.
The scrutiny against the White House has been largely welcomed by House Speaker Kevin McCarthy, who told Fox News that he "personally called" Wray the morning of the deadline demanding that the FBI turn over the documents in question relating to Comer's subpoena.
"So let me not just tell you, let me tell Director Christopher Wray right here, right now," McCarthy told the network. "If he misses the deadline today, I am prepared to move contempt charges in Congress against him."
It has remained unclear what the documents in question might contain, and no specific allegations against Biden have been made by House Republicans in relation to the subpoena. Grassley and Comer's original press release said that an unclassified form "allegedly details an arrangement involving an exchange of money for policy decisions."
Some GOP lawmakers have also threatened to impeach Biden over the alleged scheme, including Georgia Representative Marjorie Taylor Greene, although Jordan previously told Punchbowl news that "no one's really focused on that now."
According to the Legal Information Institute at Cornell University, Congress has the ability to hold individuals in contempt who intentionally interfere with congressional duties. Those who refuse to comply with the chamber's inquiries could face a misdemeanor charge and may be subject to a fine or jail time if they are found guilty of contempt.
Most Related Links :
Latest News||Sports News||Uk News