News
Donald Trump Jr. says Ron DeSantis is "puppet of the swamp"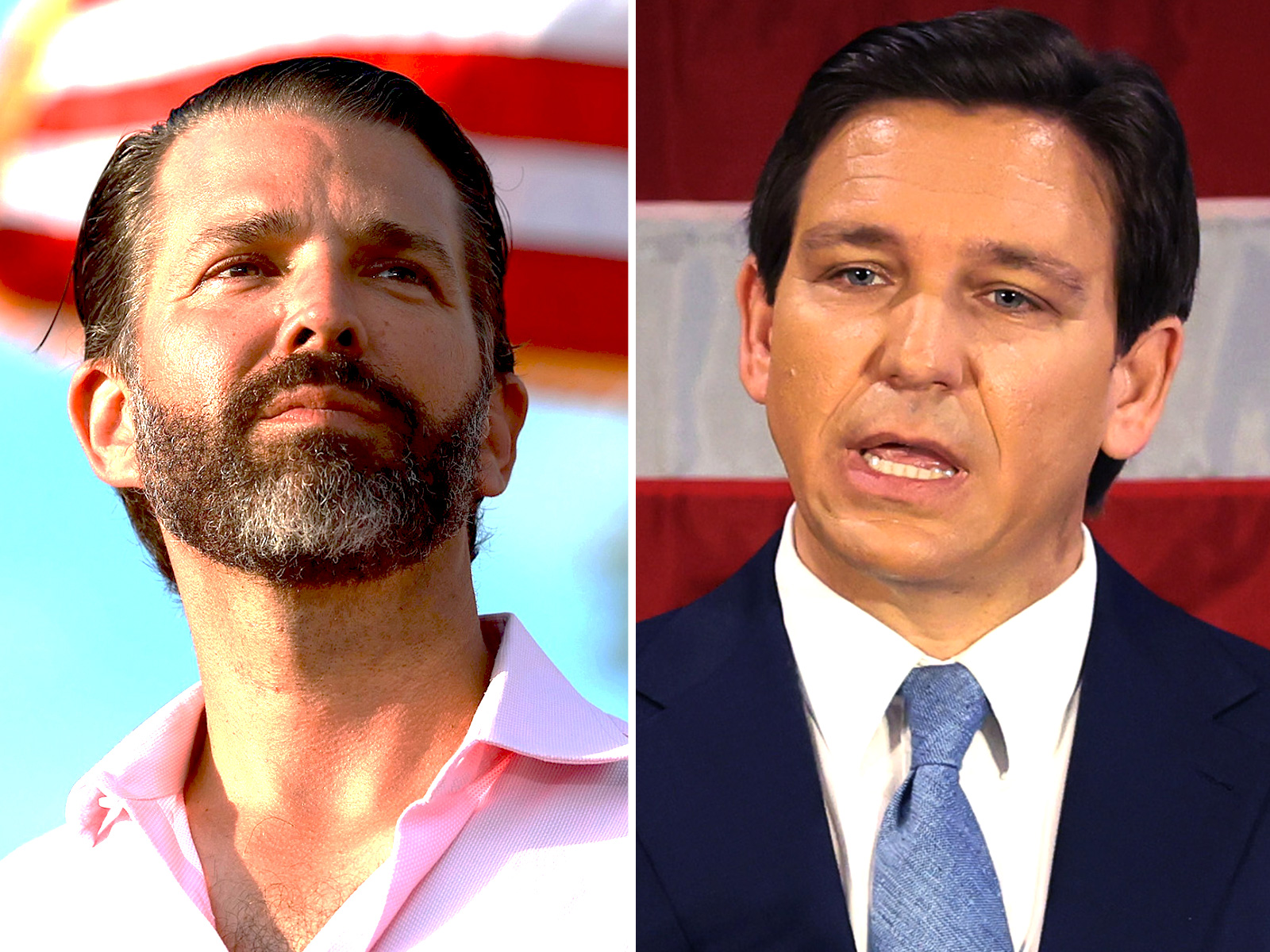 Florida Governor Ron DeSantis is a "puppet of the swamp," according to Donald Trump Jr.
Trump Jr., the eldest child of former President Donald Trump, questioned the Florida Republican's "MAGA" credentials during the latest episode of his Triggered podcast on Thursday. He made the remarks shortly after a DeSantis interview on Piers Morgan Uncensored was streamed, featuring the governor taking aim at the former president and hinting that he may seek the presidency in 2024.
"We really have to ask ourselves, was he just faking it the whole time?" said Trump Jr. "Was he ever really that much of a MAGA guy? Or was it just convenient for the establishment? I don't know, I'd love to believe that wasn't the case. But in looking at what we've seen in the last week, doesn't seem to help."
"This guy is a puppet of the swamp," he continued. "Fortunately, everyone seems to be waking up to it. It's just the facts, folks. Remember, when someone shows you who they really are, believe them."
Newsweek has reached out via email to the office of DeSantis for comment.
Trump Jr. has recently joined his father in escalating attacks on DeSantis amid a legal onslaught against the former president and speculation that DeSantis will challenge him for the 2024 GOP presidential nomination.
Trump Jr. was once an unabashed supporter of DeSantis, praising him for backing his father "from Day One" while campaigning for him during his 2018 gubernatorial run, which was endorsed by the former president.
During an episode of Triggered earlier this week, Trump Jr. lashed out at DeSantis for a "milquetoast" response to his father's potential criminal indictment in New York, maintaining that the governor is "100 per cent controlled opposition" and in league with "the billionaire donors."
The former president himself has also taken repeated shots at his potential primary opponent in posts on his Truth Social account this week, dismissing him on Wednesday as an "average governor" in anticipation of his Morgan interview airing.
"Now that Ron DeSanctimonious is finally admitting he's in the Race by beginning to fight back, and now that his Polls have crashed so he has no other choice," Trump wrote. "Florida has been successful for many years, long before I put Ron there… Ron was a big Lockdown Governor on the China Virus."
DeSantis answered in the affirmative when asked whether he thought that he had "what it takes to be president" during his interview with Morgan, suggesting that supporters should "stay tuned" for a potential announcement of his candidacy.
"It's humbling that people have come to me and asked me to do it, or urge me to do it," DeSantis said. "So, stay tuned."
The governor also took a jab at the 2020 presidential election loser after being asked about his favorite of the former president's nicknames for him, which have included "Ron DeSanctimonious," "Ron DeSanctus" and "Meatball Ron."
"I don't know how to spell 'DeSanctimonious,'" said DeSantis. "I don't really know what it means, but I kind of like [it]. It's long, it's got a lot of vowels. So we can go with that, that's fine."
"You can call me whatever you want," he continued. "Just as long as you, you know, also call me a winner."
Most Related Links :
primenewsprint Governmental News Finance News