Canada
'Worse than I imagined': Mayor reveals grim finances of OC Transpo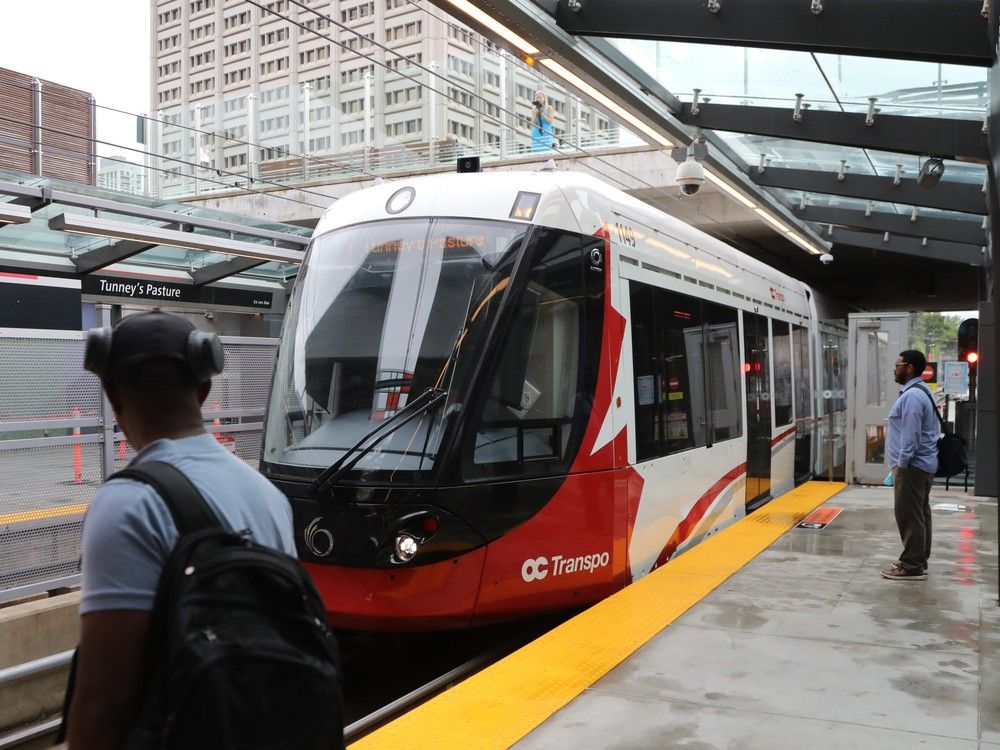 Article content
Fare revenue at OC Transpo is down by a devastating $101 million a year from what the city had projected when it launched the Confederation Line in 2019 and predicted a rosy future for light rail transit.
The shortfall, if it were sustained each year, would translate to a staggering $3.7 billion in lost revenue over the course of the next 25 years of OC Transpo's long-range financial plan. Add in inflation, unpredicted operating and maintenance costs, and planned transit capital projects, and OC Transpo will be $6.6 billion worse off than it was expecting by 2048.
Article content
Councillors — and the public — heard the grim news Monday in a special briefing that laid bare the red ink that soaks the city's plans for public transit.
In introducing the report, Mayor Mark Sutcliffe acknowledged "over the past few years I've been frustrated and, at times, embarrassed" by OC Transpo and said its finances are "even worse" than he imagined when he became Ottawa's mayor nearly a year ago.
And Sutcliffe threw down the gauntlet to the federal and provincial governments, saying Ottawa "must — simply must" receive more funding for its struggling public transit system.
"Ottawa is justified in asking for help from the federal government and the provincial government, as the nation's capital, and the fact that federal government decisions have had an impact on ridership in Ottawa and, frankly, the future of downtown," Sutcliffe told reporters.
While Sutcliffe said he respects the decision to allow federal workers to work from home, at least part of the week, it's had a profound impact on OC Transpo finances.
Public service workers make up the bulk of OC Transpo's customers and many of them continue to commute to work just two days a week. In 2019, OC Transpo estimated it would have increased ridership to 112 million in 2023. Now it estimates it won't even return to 2019 ridership levels for another seven years.
Article content
Of course, it's not just the pandemic and work-from-home that can be blamed for all of those missing riders. The Confederation Line, which celebrated its fourth birthday last week without fanfare, has been plagued by breakdowns and derailments that have frustrated and driven away passengers.
But missing riders is only part of the problem, Sutcliffe said. The provincial government needs to ante up a fair share of Ottawa's costs as it does for other cities in the province.
"We don't get the same deal as Toronto and other cities in the GTA when it comes to transit operations, maintenance and life cycle," he said. "That's got to change in the future."
Meanwhile, the financial update showed the cost of running the system is higher than forecast with maintenance costs, operator costs, fuel and energy costs all pricier than predicted in 2019.
Monday's update was bad news for residents in Kanata, Stittsville and Barrhaven who may be waiting for the Stage 3 extension of LRT service to their communities. The city doesn't have money for it and Stage 3 remains 100 per cent reliant on federal and provincial funding, Sutcliffe said. (Premier Doug Ford has already said the province isn't putting a cent into Stage 3 until the problems of Stage 1 are fixed.)
Article content
"Put bluntly, what are the chances of it getting built?" the mayor was asked by reporters.
"We're not ready to push the button on Phase 3 anyway," Sutcliffe replied. "Operating OC Transpo is a challenge right now. We have an operating deficit for 2023 and 2024. We have to make a lot of decisions to improve the financial picture, and if we can do that we'll be ready to talk about Phase 3. I still believe that Phase 3 is an important part of our future plans."
Meanwhile, the city is exploring other ways of improving transit from outlying areas, including bus rapid transit routes and on-demand service as currently being tried in Blackburn Hamlet. The city is also brainstorming ways to generate more money, including municipal vehicle registration fees, road tolls, fees for ride-hailing services, the sale of development rights at transit stations and hiking transit development fees, which the city says raise $1 billion less than they should.
While the long-term projections are bleak, Sutcliffe said the city's immediate goals remain the same: fix the problems with the Confederation Line, open the future stages of light rail, and stabilize and improve the existing bus service.
"Despite all the troubles that we've had, light rail is game-changing and a city building project that will transform Ottawa for generations," Sutcliffe said.
The transit commission is expected to table its 2024 budget on Nov. 14.
Most Related Links :
Latest News||Sports News||Uk News