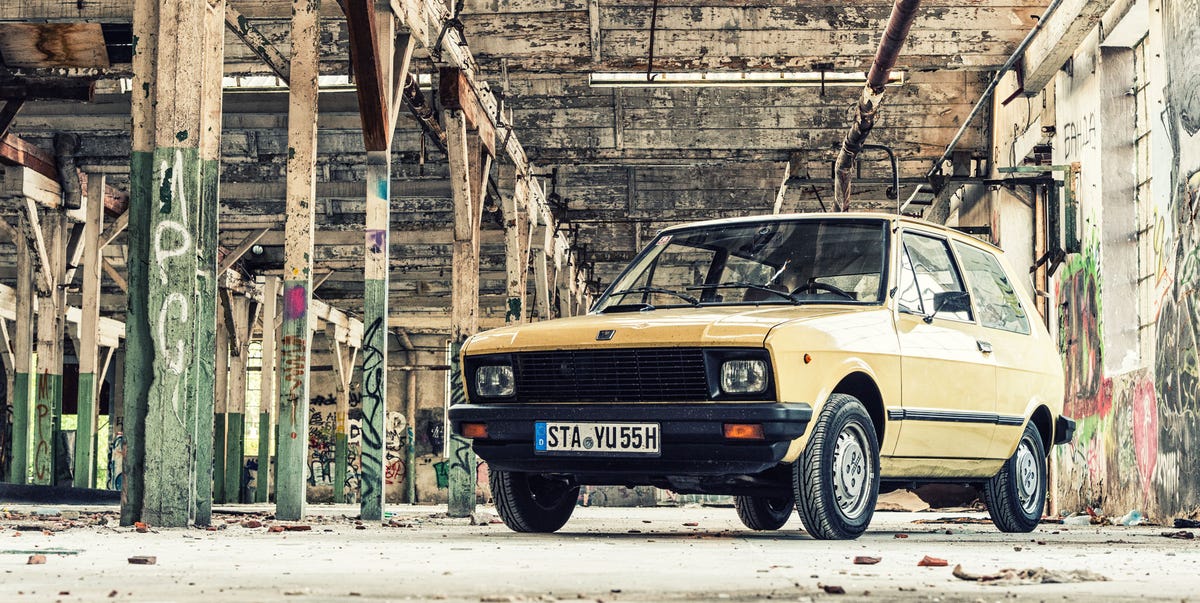 From the April 2023 issue of Car and Driver.
Back in '87, Yugo's ad jingle said to "buy yourself some freedom, buy a Yugo." The Yugoslavian-built car practically flew out of showrooms in its first three years, and nearly 40 years after it made headlines for its status as the cheapest new car in the U.S. at $3990 plus $389 destination, everybody still has a Yugo story to tell, a Yugo joke to crack, and a former Yugo owner to spoof. Show up at a Cars & Coffee in your Giugiaro-reskinned, Yugoslavia-built Fiat 127 clone and watch it out-Instagram every other car around it.
The Yugo's sub-2000-pound curb weight isn't the only small spec. The GV's 55-hp engine means no Yugo will ever win a traffic-light drag, nor can it outhandle a well-ridden e-bike. And it's unlikely to be the next featured marque at Pebble Beach. But as a bargain-basement time machine hot-wired to the late Cold War era—think Richard Marx, Paula Abdul, and the earliest days of the internet—nothing comes close.
Engine
Originally developed by Fiat, the carb-fed SOHC 1-liter inline-four sits deep in the Yugo's cavity, partly concealed by the spare tire, and musters 55 horsepower at a noisy 6000 rpm. Driving the skinny 13-inch front wheels through a loose four-speed gearbox and a whiny diff, it propels the 1860-pound four-seater to 60 mph in a leisurely yet vocal 14.0 seconds. Some later models allegedly got a fuel-injected 64-hp 1.3-liter and a five-speed gearbox.
Value
It is possible to find a decent Yugo and get it tiptop for under $5000 (and even cheaper if you purchase in Europe, as the author did), but the market for these cute little Trabant-beating runabouts is oddly strong. Bring a Trailer recently auctioned a Yugo for $8100. If you can locate one for sale, a decent specimen still should cost considerably less than a budget holiday in Dubrovnik.
Problem Areas
Corrosion and rot. Yugo claimed to rustproof the U.S.-bound Yugos, but that didn't do much to stop these econoboxes from oxidizing. Other worries include the unavailability of certain trim components and persistent electrical gremlins caused by three-decade-old parts from obscure defunct suppliers. You'll need to adopt an apathetic "be prepared to fix it on the spot" mindset. On the bright side, you'll never have to worry about faulty airbags, broken electronic seat controls, a leak in the power steering, or an ABS warning light—these items were never part of the Yugo experience.
Recent Sales
1988 Yugo GV (January 2023)
Price: $8100 Mileage: 65,000 miles
1988 Yugo GVL (December 2022)
Price: $9001 Mileage: 67,000 miles
1986 Yugo GV (April 2021)
Price: $7500 Mileage: 14,000 miles
(Sales from Bring a Trailer.)
1986 Yugo GV
55-hp 1.1-liter inline-4, 4-speed manual, 1860 lb
TEST RESULTS
60 mph: 14.0 sec
100 mph: yeah, right
1/4-mile: 19.5 sec @ 68 mph
Top Speed: 86 mph
Braking, 70-0 mph: 202 ft
Roadholding, 300-ft Skidpad: 0.68 g
From C/D, April 1986. Acceleration times adhere to our old rollout rule of 3 mph.

Contributing Editor
Although I was born the only son of an ornithologist and a postal clerk, it was clear from the beginning that birdwatching and stamp collecting were not my thing. Had I known that God wanted me to grow to 6'8″, I also would have ruled out anything to do with cars, which are to blame for a couple of slipped discs, a torn ligament, and that stupid stooped posture behind the wheel. While working as a keeper in the Aberdeen Zoo, smuggling cheap cigarettes from Yugoslavia to Germany, and an embarrassing interlude with an amateur drama group also failed to yield fulfillment, driving and writing about cars became a much better option. And it still is now, many years later, as I approach my 70th birthday. I love every aspect of my job except long-haul travel on lousy airlines, and I hope it shows.
Most Related Links :
primenewsprint Governmental News Finance News