Automobile
Kia Confirms EV9 Is Getting a High-Performance GT Model in 2025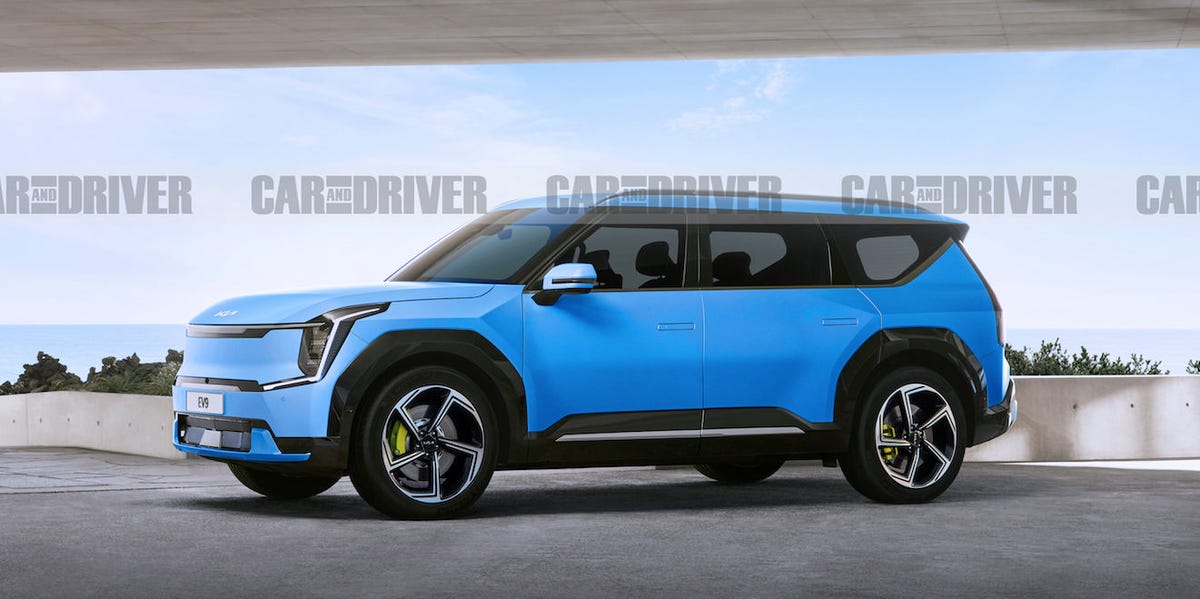 Kia has confirmed the new three-row EV9 SUV will add a high-performance GT variant in 2025.
We believe the EV9 GT's powertrain will come from the Kia EV6 GT, which features a 576-hp all-wheel-drive dual-motor setup.
For 2024, the most powerful EV9 is the 379-hp all-wheel-drive model, so the GT's extra 200 hp will notably improve acceleration.
Along with revealing more specs about new mid-size three-row EV9 SUV, Kia has confirmed a high-performance GT model is also on the way. The regular 2024 Kia EV9 will go on sale in the U.S. in the second half of this year, with the GT version that's currently being developed to be released in early 2025.
Information regarding the EV9 GT remains limited, as we're just now starting to learn more about the standard EV9. However, our best guess is that the forthcoming GT variant will inherit the potent all-wheel-drive dual-motor powertrain from the Kia EV6 GT. That hi-po model has peak power outputs of 576 horsepower and 545 pound-feet of torque.
A special green "GT" button on the wheel unlocks the full range of chaos in the GT, giving drivers access to blisteringly quick acceleration. How quick? The one we tested hit 60 mph in as little as 3.2 seconds. Of course, the heavier EV9 GT likely won't be quite as quick. However, it could adopt other hardware found exclusively on its EV6 counterpart, such as its eLSD that can overdrive the outside rear wheel in corners, improving agility and giving the machine a more rear-drive demeanor. Adaptive dampers, upgraded brakes, and a set of summer tires like those found on the EV6 could also be part of the mix.
Unfortunately, the added performance benefits that come along with the EV9 GT are likely to result in the same issues as the EV6 GT. While Kia boosted the available power in that car, it stuck with the same 77.4-kWh battery pack, which led to its estimated range to drop to 206 miles. So, expect the mighty GT to have the shortest range in the EV9 family.
We're still waiting for Kia to release an estimated range for the 2024 EV9 GT-Line, which features an all-wheel-drive dual-motor powertrain that combines for 379 horsepower and 442 pound-feet of torque (a 516-pound-f00t burst is available in Boost mode). It uses a 99.8-kWh battery that we expect to see duty in the EV9 GT.
With pricing still not set for the 2024 Kia EV9, it'll be a while before we have any figures for the GT version. If the EV6 is any indication, the high-performance option could add about $4000. Stay tuned to find out.
This content is imported from poll. You may be able to find the same content in another format, or you may be able to find more information, at their web site.
Associate News Editor
Jack Fitzgerald's love for cars stems from his as yet unshakable addiction to Formula 1.
After a brief stint as a detailer for a local dealership group in college, he knew he needed a more permanent way to drive all the new cars he couldn't afford and decided to pursue a career in auto writing. By hounding his college professors at the University of Wisconsin-Milwaukee, he was able to travel Wisconsin seeking out stories in the auto world before landing his dream job at Car and Driver. His new goal is to delay the inevitable demise of his 2010 Volkswagen Golf.
Most Related Links :
primenewsprint Governmental News Finance News