Automobile
Alfa Romeo Tonale Edizione Bambini Is a Concept Car for Toddlers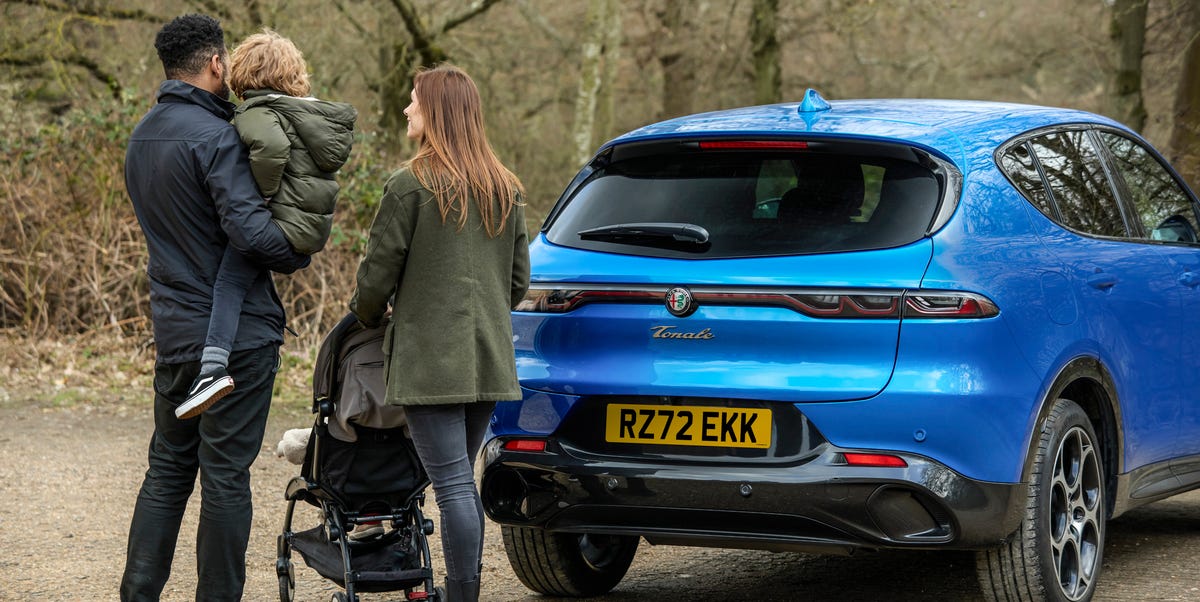 The Alfa Romeo Tonale Edizione Bambini is an interesting concept that prioritizes toddlers.
The one-off Tonale is a parent-focused concept intended to add practical parenting accessories to the car.
Titled the Tonale Edizione Bambini, the concept has a station for changing diapers, an in-car baby monitor, and a host of new storage accessories.
Parenting is hard—or so we're told. Alfa Romeo, which hasn't yet started deliveries for its upcoming Tonale subcompact SUV, has revealed the Edizione Bambini concept that's designed to make parenting while driving less stressful.
The Alfa Romeo Tonale Edizione Bambini is quite the mouthful. Bambini, as you may have guessed, translates from Alfa's native Italian to mean "baby." It's a fitting name once you look inside the concept.
The one-off Tonale is Alfa's answer to tired parents who want to maintain the elegance of a luxury vehicle but are just too damned tired to clean the thing. The trunk of the Bambini is completely overhauled to cater to parenting duties. An in-car vacuum is stored along the back of the trunk, with storage organizers taking up the space in front of it. An Alfa Romeo–badged baby-changing station replaces the standard trunk cover and slides in and out as needed. Nothing says elegance quite like a small poop stain from one really bad day.
Organizer slots are added to the back of the front driver and passenger seats in an attempt to cure childhood boredom. Alfa also added tablet holders to the back of the front seats to keep your kids occupied. Plus, children sitting in the middle seat have their own leather folder that can hold both a tablet and their own reward chart to minimize back-seat arguing.
Alfa conducted a survey of 2000 U.K. parents with children aged zero to 11 years old to learn that children kick the back of the front seats roughly three to five times per trip. To counter this, the design team for the Bambini added protective panels to maintain style. The back of the front seats also have new storage spaces for a water bottle, bento box, tablet holder, and a chart to encourage children to keep the car clean.
Is the lack of storage really the biggest issue parents have with young children and keeping a clean car? Is a bento box really going to keep toddlers from somehow spilling more Cheerios than they consume? We doubt it, but props to Alfa for trying to solve an impossible problem.
This content is imported from poll. You may be able to find the same content in another format, or you may be able to find more information, at their web site.
Associate News Editor
Jack Fitzgerald's love for cars stems from his as yet unshakable addiction to Formula 1.
After a brief stint as a detailer for a local dealership group in college, he knew he needed a more permanent way to drive all the new cars he couldn't afford and decided to pursue a career in auto writing. By hounding his college professors at the University of Wisconsin-Milwaukee, he was able to travel Wisconsin seeking out stories in the auto world before landing his dream job at Car and Driver. His new goal is to delay the inevitable demise of his 2010 Volkswagen Golf.
Most Related Links :
primenewsprint Governmental News Finance News