Automobile
2024 Toyota Grand Highlander Lives Larger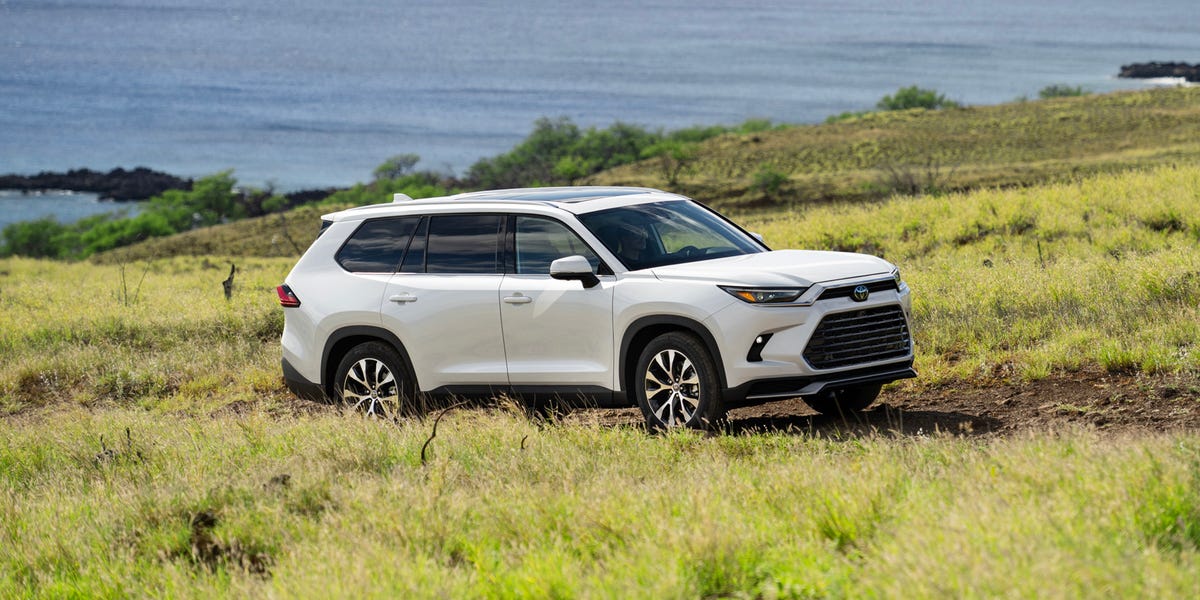 You'd think that Toyota would have the sport-utility formula long figured out given its numerous popular models. But there's been a gaping hole in Toyota's SUV lineup for some time, with the step up from the Highlander crossover to the body-on-frame Sequoia being particularly large.
Though it's a wildly popular vehicle (3.3 million-plus sold to date), the Highlander's middle row isn't exactly world-beating, and its puny third row is no match for the likes of the Honda Pilot, Hyundai Palisade, Jeep Grand Cherokee L, and Kia Telluride. Meanwhile, the product gap grew into a chasm when the new Toyota Sequoia debuted, as it moved in a truckier direction to fill the vacuum left by the departing Land Cruiser. The change from independent to solid-axle rear suspension certainly improved towing and off-road capability, but ride smoothness and third-row passenger/cargo space suffered.
Enter the Grand Highlander
The 2024 Toyota Grand Highlander is a completely new vehicle that is not merely a stretched-wheelbase Highlander. The Grand Highlander certainly has a longer wheelbase, but it's considerably larger in every other dimension too. It also looks different from the Highlander, with smooth flanks that do not evoke the Supra-wannabe swoopiness of the Highlander. The GH is built specifically to take on the above competition in what Toyota calls the "long-haul three-row SUV" segment. That it uses a derivative name is a calculated strategy, as Toyota freely admits that it is "drafting off the success" of the Highlander by simply tacking "Grand" onto the nameplate.
And why not? The Grand Highlander shares its namesake's core mission, but it's just better at it—particularly if you'll use the third row more of the time, or for longer trips. In numeric terms, the Grand's 116.1-inch wheelbase is 3.9 inches longer than the Highlander's. It's also 4.0 inches longer overall than the longest Highlander XSE, 2.3 inches wider, and stands 2.0 inches taller. But it remains significantly more garage- and parking-space-friendly than a Sequoia because its overall length is 6.7 inches stubbier, its roof crouches 4.4 inches lower, and the body is 1.3 inches narrower.
Made For the Long Haul
The Grand Highlander's extra interior space is put to good use, and we're lucky that chief engineer Craig Payne cut his teeth on the Sienna before he was assigned the Grand Highlander project. The now-spacious third row is easy to enter, and our 6-foot-2-inch tester, yours truly, was able to sit there comfortably, with the second row preset to account for his own adjusted driving position. You could say the Grand Highlander can carry a conga line of Dans. At the same time, there is 21 cubic feet of luggage space behind the third row—enough, in Toyota's estimation, for seven carry-on suitcases.
Meanwhile, the Highlander only provides 16 cubic feet behind a third row that is utterly adult-repellent, with 1.1 inches less headroom and 5.5 fewer inches of legroom. Things are surprisingly subpar in the Sequoia, which offers either 22 cubic feet of rear cargo space or Grand Highlander levels of third-row legroom, but not at the same time. You must scooch the seat forward to the point of uninhabitability to get the former or slide it back to get the latter, at which point you have just 12 cubes of cargo room—and 1.6 inches less headroom than the Grand.
We like how every outboard seat has a USB-C outlet, and the Grand Highlander's numerous cupholders feature adjacent slots that can cradle smartphones and tablets. The second-row mini-console pops out quickly to create an aisle, and the front console features a thoughtful roll-back top between fixed armrests that allows you to fish around without disturbing your seatmate. Want to fold seats and tote cargo? The Grand Highlander carries 58 cubic feet behind the middle row and 98 behind the front, which tops the Sequoia's 49- and 87-cubic-foot efforts and is 10 or so cubes better than the competition in both measures.
Up front, the driver's seat is exceedingly well shaped, and the dash has a layered and interesting look—especially when accented with the Portobello brown leather and bronze trim of our Hybrid Max Platinum sample vehicle. Piano black is used sparingly, and many controls are set on matte-black surfaces that look and feel surprisingly premium. A 12.3-inch touchscreen is standard across all grades, and pairing our phone to wireless Apple CarPlay was painless. Indeed, this is a comfortable and accommodating place to whittle away the miles.
Multiple Modes of Motivation
Under the hood, you have your choice of three powertrains. The base turbocharged 2.4-liter inline-four is good for 265 horsepower and 310 pound-feet of torque, and it's available with front- or all-wheel drive. The V-6-powered competition delivers between 20 and 28 more horsepower, but the Grand Highlander sends an extra 48 to 50 pound-feet through its eight-speed automatic. Manufacturer-estimated combined fuel economy is 24 mpg for the front-driver and 22–23 mpg with all-wheel drive. That's about 1–2 mpg better than the aforementioned competition.
Next up is Toyota's familiar hybrid with dual electric motors that work together to recover braking energy, harvest excess engine output, and regulate the drive ratio of the seamless electronic continuously variable automatic transmission. The system's 2.5-liter engine makes 187 horses and 177 pound-feet on its own, with the electric motors boosting that to 245 horsepower. All-wheel-drive versions add a third motor between the rear wheels. Estimated fuel economy ranges between 33 and 34 mpg combined, depending on trim.
Though the top-level powertrain is called Hybrid Max, it shares nothing with the above-described hybrid. It combines the base 265-hp turbo four with a single electric motor sandwiched between its engine and transmission, which has six speeds instead of eight because the electric motor's added torque helps bridge the wider gaps. All-wheel drive is standard, so there's a second motor at the rear. All in, this powertrain makes 362 horsepower and 400 pound-feet, which tops the Jeep Grand Cherokee L's 5.7-liter Hemi V-8 in both measures. Fuel economy is an estimated 27 mpg combined, which is 10 mpg better than the Jeep.
Drives Like a Bigger Highlander
Underway, the base powertrain has no trouble urging the larger and heavier Grand Highlander into merge lanes and up steep grades. The transmission shifts smoothly, and even though the base Grand is not quick, it's no slug either. We reckon 60 mph will arrive in about 7.5 seconds. The engine note tends to mumble under load but pipes down while cruising. It also cuts a willing arc through corners, though the steering is somewhat light for our tastes.
We didn't drive the base hybrid, but the Hybrid Max feels much more eager, as it should with almost 100 more horsepower. Toyota says 60 mph will come in 6.3 seconds, but we think it'll do better. Meanwhile, it's never apparent that its transmission has two fewer cogs, and the feel of the blended brakes is impressively consistent and reassuring. The steering is just as light as the standard GH, but on-center buildup is a bit more muted here, possibly owing to the sharper response of its standard 20-inch wheels.
Both versions deliver a generally smooth ride that lacks any semblance of float, but the base model's 18-inchers came across as more supple over cracked surfaces, as smaller-diameter wheels often do. But we're not ready to be definitive, because the roads on Hawaii's Big Island lack the variety of those at home, and the lowly 55-mph speed limit is enforced by unmarked patrol cars.
Available Soon, and at Compelling Prices
When it arrives this summer, the Grand Highlander's three-powertrain lineup will be available across the XLE, Limited, and Platinum grades. All-wheel drive is optional on the first two for $1600. All three grades are available with the base engine, starting with the XLE at $44,405, which is only $1050 more than a similarly outfitted 2023 Highlander. That's a steal. The XLE Hybrid goes for $46,005, which again is just $1050 more than a comparable Highlander. Higher up, the all-wheel-drive Limited Hybrid Max, which has no Highlander equivalent, costs $55,375, and the all-wheel-drive Platinum Hybrid Max sits atop the pile at $59,460.
With the new Grand Highlander, Toyota has neatly plugged a hole in its lineup that had recently grown larger with the Sequoia's new realignment. It finally gives Brand T what it needs to go up against the likes of the Honda Pilot, Hyundai Palisade, and Kia Telluride in the so-called long-haul three-row SUV segment. Does it have a chance to win a comparison test? That's not yet clear, but it's sure to win over new converts that bypassed the Highlander because it didn't quite measure up.
Specifications
Specifications
2024 Toyota Grand Highlander

Vehicle Type: front-engine, front-engine and front-motor, or front-engine and front- and rear-motor, front- or all-wheel-drive, 7- or 8-passenger, 4-door wagon
PRICE
Base: FWD, $44,405; AWD, $46,005; Hybrid FWD, $46,005; Hybrid AWD, $47,605; Hybrid Max, $55,375
POWERTRAINS
DOHC 16-valve 2.5-liter Atkinson-cycle inline-4, 187 hp, 177 lb-ft + 2 or 3 AC motors (combined output: 245 hp, nickel-metal hydride battery pack); turbocharged and intercooled DOHC 16-valve 2.4-liter inline-4, 265 hp, 310 lb-ft; turbocharged and intercooled DOHC 16-valve 2.4-liter inline-4, 265 hp, 310 lb-ft + 2 AC motors (combined output: 362 hp, 400 lb-ft; nickel-metal hydride battery pack)

Transmissions: continuously variable automatic, 8-speed automatic, continuously variable automatic/direct drive (F/R), 6-speed automatic/direct drive (F/R)
DIMENSIONS

Wheelbase: 116.1 in

Length: 201.4 in

Width: 78.3 in

Height: 70.1 in

Passenger Volume, F/M/R: 58-60/52-54/39 ft3

Cargo Volume, Behind F/M/R: 98/58/21 ft3

Curb Weight (C/D est): 4400-5000 lb
PERFORMANCE (C/D EST)

60 mph: 6.2-8.6 sec

1/4-Mile: 14.4-17.5 sec

Top Speed: 115 mph
EPA FUEL ECONOMY (MFR'S EST)

Combined/City/Highway: 22-34/20-36/26-32 mpg

Technical Editor
Dan Edmunds was born into the world of automobiles, but not how you might think. His father was a retired racing driver who opened Autoresearch, a race-car-building shop, where Dan cut his teeth as a metal fabricator. Engineering school followed, then SCCA Showroom Stock racing, and that combination landed him suspension development jobs at two different automakers. His writing career began when he was picked up by Edmunds.com (no relation) to build a testing department.

Most Related Links :
Latest News||Sports News||Uk News